Simone Biles makes history after title at the US Gymnastics Championships winning a record 8th all-around national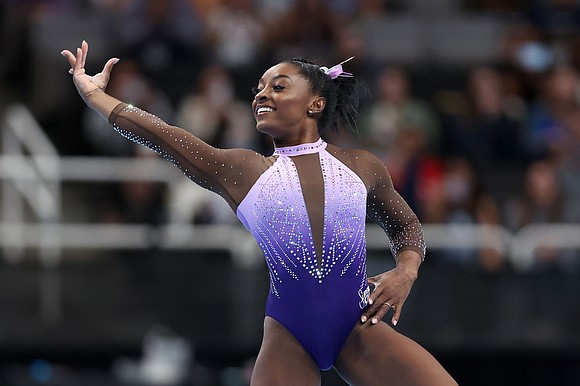 Originally Published: 27 AUG 23 07:45 ET
Updated: 27 AUG 23 22:02 ET
By Jacob Lev, CNN
(CNN) — The woman most people consider the greatest gymnast of all time keeps adding to her amazing legacy.
Simone Biles won a record eighth national all-around title with a strong performance Sunday at the US Gymnastics Championships in San Jose, California.
The 26-year-old Biles also became the oldest woman to ever win the championships when she finished 3.9 points ahead of Shilese Jones, the all-around silver medalist at the 2022 US and world championships.
The eighth title for Biles breaks the record she shared with Alfred Jochim, who won his seventh all-around gold medal 90 years ago in 1933.
"I think it feels really special," she told NBC, which broadcast the championships. "I've been doing it for so long, I feel like I don't think about numbers, I think about my performance. And I think, overall, I hit eight for eight (routines). … I guess it's a lucky number this year."
Even after a long absence from major competition, Biles showed an assuredness in her performances and the four-time Olympic gold medalist dominated the field Friday and Sunday. She locked up the all-around crown with a 15.400 in her breathtaking floor exercise.
As she exited the floor to a rousing ovation from the crowd, her teammates and coaches were waiting to give her an embrace.
When her teammate Jordan Chiles took the floor to perform her routine, Chiles waved her arms to the crowd to continue to give Biles a much-deserved ovation.
"It's really amazing. Everybody in here believes in me," she said, referring to her teammates, coaches, family and the crowd. "So I just need to start believing in myself a little bit more, but it feels amazing and I love the fans, I love the crowd. It was really special."
Biles wouldn't tip her hand on whether she will compete in next year's Olympics.
"I like to keep (my goals) personal just so that I know what I am aiming for," she told NBC. "I'm trying to move a little bit differently this year than I have in the past. So I think it's working so far, so I'm gonna keep it a little bit secretive."
Biles continues her return to competitive gymnastics after a two-year hiatus following the 2021 Tokyo Olympics, when she pulled out of several events suffering from what is known as the "twisties" – a mental block causing a gymnast to lose track of their positions in midair.
Throughout the competition, Biles effortlessly and powerfully completed elements of her routines no other female gymnast has ever landed in competition.
On Sunday, she started with a solid 14.85 on the vault. Later, she was seen getting her ankles taped between events.
She scored 14.050 on the uneven parallel bars, but Biles' 14.85 on the balance beam grew her lead and she wrapped up the title on the floor, where she has won one Olympic and five world titles.
Biles returned to action earlier this month, winning in triumphant fashion at the Core Hydration Classic.
Biles is the most decorated gymnast in US history, winning 32 medals across the Olympics and the world championships.
With the win, Biles earned a place in the world championships, which are scheduled to start September 30 in Antwerp, Belgium.