How a 14-year-old became part of the animation team behind 'Spider-Man: Across the Spider-Verse'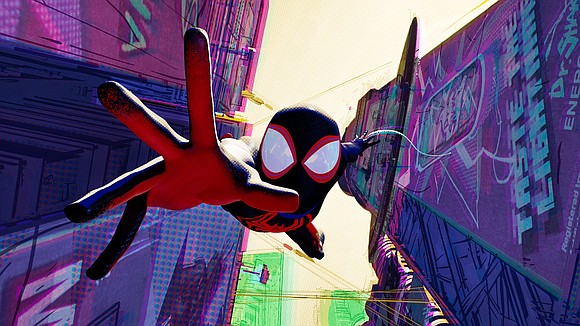 Originally Published: 29 AUG 23 21:30 ET
By Lisa Respers France, CNN
(CNN) — Preston Mutanga has found fame as a teen wunderkind whose creativity resulted in the ultimate gig.
While other teens were crowding into movie theaters to watch this summer's "Spider-Man: Across the Spider-Verse," the 14-year-old was reveling in the fact that he got to work on the movie's animation, after catching the eye of those behind the film thanks to a fan project he created.
Mutanga told CNN that even as a youngster, he was in love with animation.
"Pixar movies were what mainly inspired me because I watched them a lot and they were easily accessible for me," he said. "I loved how Pixar really changed the game for animation back in the day."
He also played with the Lego sets his parents bought him, and later taught himself CGI animation and began creating scenes using Lego. In January, he tweeted his Lego recreation of the teaser trailer for "Across the Spider-Verse," which made waves and grabbed the attention of the creative team behind the film.
They ended up inviting Mutanga to animate a Lego scene for the movie.
"We didn't know he was a 14-year-old kid at first. We just saw a fan who did an amazing fan trailer, and then we reached out and found out that he was a 14-year-old kid, and we're like, 'Well, is it legal?'" Kemp Powers, a co-director on the film, told CNN. "'Can we actually work out some way to hire this kid to do it?' Because I mean, the proof is in the pudding."
It was a full-circle moment for Mutanga, who said he was around six or seven years old when "The Lego Movie" came out in 2014 and inspired him to get into animation. That film was directed by Phil Lord and Christopher Miller, who also worked on "Spider-Man: Across the Spider-Verse."
"Getting to hear from my idols was just honestly surreal," Mutanga said. "It was so amazing that I got to hear that Phil Lord and Chris Miller wanted to work with me to create a Lego sequence."
Now, the movie has made hundreds of millions of dollars and the youth couldn't be happier.
"Honestly, it's like absolutely insane," he said. "And seeing my name on the credits too was just like, it was so surreal, to see that finally I've gotten to this point. I've worked on the greatest movie of all time."
The DVD of "Spider-Man: Across the Spider-Verse" – the sequel to 2018's Oscar-winning "Spider-Man: Into the Spider-Verse" – will be released on September 5.