Local Chef with Le Cordon Bleu Roots to Star in Food Network Halloween Series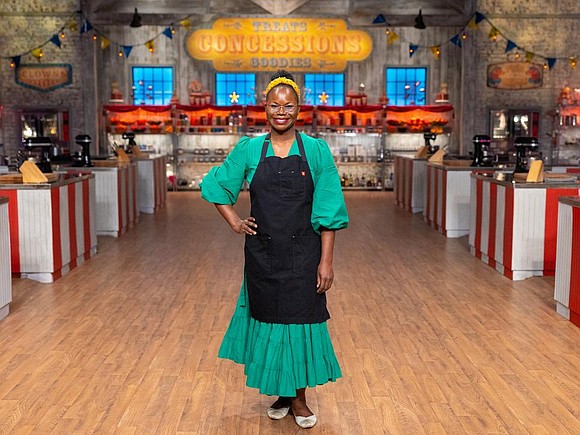 Adesuwa Elaiho has been making culinary waves in the Hill Country for over eight years with her wedding cakes and pastries that have amassed a cult following, but her national TV debut will finally take place this Fall on the Food Network. Elaiho is one of 12 chefs competing in the Halloween Baking Championship, a multi-episode series which premieres on September 11th at 8 p.m. Central Time.
"I've loved serving San Antonians and creating confections for their most special moments for years," says Elaiho, who was the first student to ever complete all three degrees offered at Le Cordon Bleu in Paris. "This is just an entirely new honor to represent my city in such a special way, and for such a fun series."
The show is currently in its ninth season, and features varying challenges from expert judges, all with a Halloween twist. Elaiho says she prepared for weeks leading up to the series. "I worked really hard to think through different scenarios the judges might throw at us, but of course there was no way to know exactly what we would encounter," she says. "I hope San Antonians will tune in because it really was a blast to film and challenge myself professionally."
Asukar specializes in wedding cakes and pastries, though they've expanded in recent years to include lunch and savory options. Their Fair Oaks cafe location recently announced its closure to make way for an exciting new location coming in Spring of 2024. Elaiho says it may have been this breadth of experience that led to her being selected for the show. "I'm also thrilled to have another San Antonian on the show with me, Mandi Tel Toro," she says. "For two female bakers from our city to be represented in this season is pretty incredible." The Food Network has information on the show and the other contestants already available on their website here, and a premiere party is in the works for the first episode's airing.