Kendra Scott Partners with Museum of Ice Cream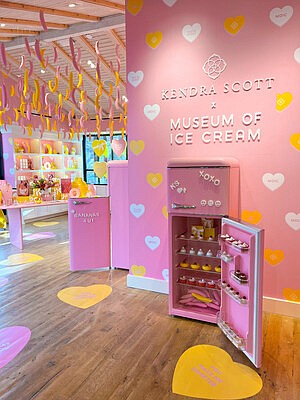 As part of the brand's "Sweet on You" Valentine's Day campaign, Kendra Scott is partnering with Museum of Ice Cream beginning February 1st. The two synergistic brands that focus on experience, spreading joy, and inspiring human connection, are coming today this Valentine's Day to reimagine the way we experience ice cream and jewelry.
Well known for being a warm, welcoming & inclusive environment filled with color, moments of joy and sweet treats, Museum of Ice Cream's Austin location was the perfect place to capture Kendra Scott's "Sweet on You" Valentine's Day campaign. Launching just in time for Valentine's Day, the multi-pronged partnership will feature an immersive, experiential retail component in Kendra Scott's bustling South Congress Flagship location, a custom ice cream flavor, philanthropic give back, and more.
The biggest scoop is taking place in Austin. Beginning February 4th, the South Congress flagships' back room will be transformed in true Museum of Ice Cream style, dressed with bananas, baubles, and hearts galore. A great place to take your Valentine, gal-entine, and family, the pop-up will feature interactive elements such as magnet letter boards, a letter writing station, photo-worthy moments, a lounge area, and of course, sweet treats and jewelry. At the Austin and Chicago outposts of the Museum of Ice Cream, guests will enjoy unlimited tastes of the limited-time "Kendra's Sweet on You" treat made with banana ice cream, pink chocolate topping, sprinkles, and a candy heart. At the New York Museum of Ice Cream, guests will enjoy unlimited tastes of strawberry ice cream with whip cream, sprinkles, and a candy heart.
As giving back is a key pillar for both brands, Kendra Scott and Museum of Ice Cream will be surprising schools in Austin, Chicago, and New York in February with ice cream parties hosted by Museum of Ice Cream guides. Students will also work with the teams to construct their own Museum of Ice Cream ice cream truck to take home. Each classroom will receive an Amazon gift card to offset the cost of supplies for the teacher.
"As a brand that places emphasis on innovation and puts the customer experience first, we are so excited to partner with an unexpected brand such as Museum of Ice Cream," said Tom Nolan, CEO of Kendra Scott. "It's always our goal to show up in new places, spread joy to our customers, and give back."
"Our shared intention to spread joy and inspire wonder through creativity and thoughtful design make Kendra Scott a natural partner for Museum of Ice Cream," shared Maryellis Bunn, founder of Museum of Ice Cream. "Our collaboration celebrates the universal power of both ice cream and jewelry, coming together to create a new experience for visitors and shoppers alike."
The Kendra Scott x Museum of Ice Cream Experience launches on February 4th at Kendra Scott South Congress. It is free and open to the public. To enjoy the full Musem of Ice Cream experience this season, visit museumoficecream.com to purchase tickets. For more information on Kendra Scott, please visit kendrascott.com.