DARK & LOVELY ANNOUNCES MEAGAN GOOD AS NEWEST BRAND AMBASSADOR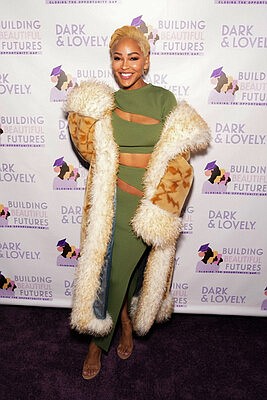 Last night, Dark & Lovely proudly announced Meagan Good as their latest ambassador at their 'Making Bold Moves' event held in support of the brand's philanthropic initiative, Building Beautiful Futures. The award-winning actress, bestselling author and producer also debuted the return of her signature blonde hair.
"In a world where Black women are often disregarded, Dark & Lovely has always celebrated us. I'm honored to be partnering with this legendary brand to help embolden Black women to authentically walk in their power, dream big and celebrate who they are," The 'Harlem' star stated.
Recognizing the growing "opportunity gap" for young Black women, particularly post-pandemic, Dark & Lovely developed Building Beautiful Futures in 2022 to help bring educational and career equity to Black female college students and young professionals. In 2023, the program will further its commitment to create opportunities for young, Black women and equip them with tools for success through even more masterclasses, scholarships, mentorship opportunities and networking events.
Good's commitment to uplifting young Black women, approach to taking new challenges head on and enthusiasm for bold, show-stopping looks embodies everything Dark & Lovely stands for. She will serve as an ambassador for the brand's Fade Resist collection and full product range. She will also help spread awareness about Building Beautiful Futures as it kicks off its second year by lending her voice and time to inspire and support young Black women.
The evening featured BOLD conversations with Good and Digital Creator, DonYé Taylor, moderated by Dark & Lovely's Marketing Director Tenaj Ferguson. Dark & Lovely and BrainTrust Founders Studio also revealed the winner of their recent pitch competition, Janell Muhammad, Founder and CEO of SelfiēSkín Co. She was awarded a $5,000 grant and a trip to Dark & Lovely's headquarters in NY to learn what it takes to build and grow a brand.
To learn more on how to:
-Apply For a Building Beautiful Futures Scholarship HERE
-Participate in our Mentorship Program - Follow DARK & LOVELY for our schedule of mentorship masterclasses focused on education, life and career coaching
-Be The Change - Become a Mentor or Mentee and Inspire others by sharing your mentorship story using #DARKANDLOVELYBBF