15 of America's best small towns and cities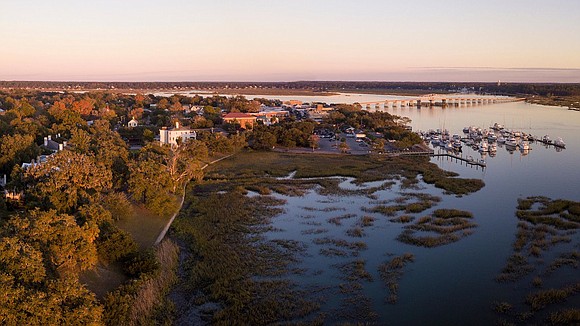 Originally Published: 21 JUL 23 08:59 ET
By Joe Yogerst, CNN
(CNN) — The vast majority of Americans may live in big cities (more than 70%, according to the 2020 census), but there's an enduring affection for small towns and cities.
A lot of that nostalgia is stoked by popular culture. From fictional cinematic stars like Amity Island ("Jaws") and Bedford Falls ("It's a Wonderful Life") to TV towns like Hawkins ("Stranger Things") and Twin Peaks, small-town life looms large on the small and silver screens.
American literature is spangled with small towns from Alabama ("To Kill a Mockingbird") to the state of Washington ("Twilight").
Many well-known Americans are proud of their small-town roots. Taylor Swift spent part of her childhood in the Borough of Wyomissing, Pennsylvania (pop. 11,000). Stephen King spent his formative years in Durham, Maine (pop. 4,100). Brad Pitt is from Shawnee, Oklahoma (pop. 31,000). Model Chrissy Teigen was born in Delta, Utah (pop. 3,600), and baseball great Jackie Robinson in Cairo, Georgia (pop. 10,000).
The United States boasts tens of thousands of towns and cities with fewer than 50,000 people. So there's no lack of choice when it comes to visiting America's diminutive destinations. But how do you choose which are the best?
Here are some ideas:
Gloucester, Massachusetts
Founded shortly after the first Pilgrims stepped onto Plymouth Rock, this bustling seaport on Cape Ann is famed in modern times as the home base for the "Wicked Tuna" fleet and setting of many films including "The Perfect Storm."
Every visit to Gloucester should include fresh-off-the-boat seafood, a stop to explore the Rocky Neck art colony and a promenade along the Western Harbor all the way out to Stage Fort Park. Between whale watching and schooner tours, there are plenty of ways to get out on the water.
Population: 30,000
Where to stay: Beauport Hotel or Harborview Inn
Saranac Lake, New York
With more than 180 structures on the National Register of Historic Places, this Upstate New York village offers a time-trip back to the late 19th century when it was one of America's leading health resorts and a destination where tens of thousands of people came to take "the cure."
Among its many relics are the colorful Adirondack Carousel, the Victorian mansions of the Helen Hill Historic District, the Robert Louis Stevenson Cottage and the Saranac Laboratory Museum, famed around the world for its tuberculosis research.
Broadway and Main Street are awash in bars, restaurants and intriguing one-off shops. Outer enthusiasts can earn patches completing the village-sponsored paddling challenge on five lakes or hiking challenge on six summits. Come winter there's cross-country skiing, ice fishing or downhill glides on Mt Pisgah.
Population: 5,000
Where to stay: Hotel Saranac or The Point
New Bern, North Carolina
The name betrays the fact that New Bern was settled in 1710 by Swiss immigrants. But nowadays there's nothing faintly alpine about this hip little Carolina coastal city known for its cool bars and gourmet culinary scene.
Living history tours of Tryon Palace spin tales about North Carolina's colonial capital while the soda fountain at the intersection of Pollack and Middle streets is where Pepsi-Cola was born in 1898 (and originally called Brad's Drink).
Nearby Croatan National Forest offers great hiking trails or you can escape to the shore at Atlantic Beach or Emerald Isle.
Population: 31,000
Where to stay: Hanna House or Courtyard by Marriott
Beaufort, South Carolina
Founded in 1711, this charming town is the second-oldest in South Carolina, after Charleston. Stately mansions built before the Civil War surround the commercial hub along Bay Street. A pleasant park along the waters of the Beaufort River is just beyond the street lined with restaurants and shops. Shade and sustenance – with waterfront views – are available on the porches and patios at Plums, Saltus River Grill and Lowcountry Cider Co. & Superior Coffee.
Exhibits and artifacts inside the old Arsenal show how Beaufort was in Yankee hands for most of the Civil War, while the Reconstruction Era National Historical Park (one of the newest units of the US National Park System) spins tales of the post-war American South.
Beaufort is bullish on festivals including an oyster festival in January, Original Gullah Festival over Memorial Day weekend, and shrimp festival in September.
A string of barrier islands is just across the bridge. St. Helena is rich in the culture of the Gullah Geechee people, descendants of formerly enslaved West and Central Africans. Farther on, the state's most popular park, Hunting Island State Park, boasts thousands of acres of maritime forest and marsh fronted by five miles of unspoiled beach.
Population: 13,700
Where to stay: Anchorage 1770 or City Loft Hotel
Metropolis, Illinois
This Metropolis established in 1839 may have been founded almost exactly a century before the first Superman comic book was published, but that didn't prevent the Ohio River town from cashing in on the Man of Steel's worldwide fame.
A colossal statue of Superman towers above the town square near a Super Museum that pays homage to Clark Kent and his almost indestructible alter ego, and a park graced with a statue of Lois Lane.
Metropolis also boasts real American history: Fort Massac. A stout riverside bastion that played a role in the American Revolution, French & Indian War and Lewis & Clark Expedition.
Population: 5,900
Where to stay: Riverview Mansion or Fort Massac Campground
Mackinac Island Village, Michigan
Located in the narrow straits between lakes Michigan and Huron, this insular community has been occupied for hundreds of years by the indigenous Odawa people, French missionaries and fur traders, the British army and finally Americans after the War of 1812.
Nowadays it's one of Michigan's premier summer vacation destinations, with 18th-century Fort Mackinac looming high above a car-free waterfront village filled with historic buildings that now house restaurants, shops and boutique hotels.
Population: About 600
Where to stay: Grand Hotel or Mission Point Resort
Eureka Springs, Arkansas
People have been traveling to this Ozark town since Victorian times to soak in its healing waters, breathe its invigorating mountain air, and dive into its artsy vibe.
Alternative lifestyles have long been welcome in a city that hosts three Diversity Weekends and a rollicking Mardi Gras festival each year. The countryside surrounding Eureka Springs offers plenty of scope for hiking, biking, boating and whitewater sports, and The Aud hosts top-shelf music acts.
Population: 2,100
Where to stay: 1886 Crescent Hotel & Spa or Basin Park Hotel
Marfa, Texas
The hippest little town in Texas is renowned for its avant-garde art and a youthful population that stokes an intriguing local bar and restaurant scene.
Despite that bizarre Prada installation on the outskirts of town, the hinterland in far West Texas still carries a Wild West vibe (as portrayed in movies like "Giant" and "No Country For Old Men" that were filmed on location in and around Marfa).
And there's that extraterrestrial thing: What exactly are the famed Marfa Lights? Nobody knows for sure.
Population: 1,800
Where to stay: Hotel Paisano or the Hotel Saint George
Taos, New Mexico
This northern New Mexico city has two major claims to fame.
One of the architectural wonders of ancient America and a UNESCO World Heritage Site, Taos Pueblo was established more than 700 years ago and is one of the oldest continuously inhabited spots in the entire western hemisphere.
The town's stunning location between the high desert and snowcapped peaks lured numerous celebrated artists and writers to live in and around Taos in the early 20th century.
With several outstanding museums and galleries, Taos remains an art hub. But it also offers summer rafting on the Rio Grande and hiking in the Sangre de Cristo mountains, and winter sports at Taos Ski Valley.
Population: 6,500
Where to stay: Hacienda del Sol or Hotel Luna Mystica vintage travel trailers
Whitefish, Montana
The gateway to Glacier National Park started life as Stumptown, a whistlestop on the Great Northern Railway surrounded by clearcut forest used to lay the tracks.
More than a century later, the trees are back and Whitefish has evolved into a year-round recreational hub that ranges from winter snowboarding and skiing at Whitefish Mountain Resort to summertime water sports, mountain biking and hiking on more than 700 miles of local trails.
Downtown Whitefish is flush with top-notch restaurants, microbreweries and craft distilleries, as well as live music, yoga sessions and groovy one-off shops.
Population: 8,900
Where to stay: Firebrand Hotel or Garden Wall Inn
Moab, Utah
Set along the Colorado River and just a short drive from Arches and Canyonlands national parks, Dead Horse Point and the La Sal Mountains, this desert town in southeast Utah is ground zero for outdoor adventure sports.
So many ways to get your adrenaline rush: whitewater rafting and tubing, biking and hiking, four-wheeling, quad biking or motorcycling on gnarly desert tracks, and spectacular tower rock climbing and red-rock rappelling and canyoneering.
After dark, check out the free summer concerts or movies in Swanny City Park or consider the heavens — the Moab area boasts three certified International Dark Sky Parks.
Population: 5,300
Where to stay: Moab KOA, Under Canvas Moab or Sorrel River Ranch
Friday Harbor, Washington
The largest town in the sublime San Juan Islands does double duty as a charming seaside vacation town and a world-class marine mammal research and conservation center.
Getting there on the ferry from Seattle is an adventure all on its own while the town and its island surrounds offers plenty of other adventures, from wild foxes and migrating whales to vestiges of the Pig War of 1859 between the US and Britain, and flavorsome stops like the Westcott Bay Shellfish Company and tiny San Juan Island Distillery.
Population: 2,500
Where to stay: Saltwater Farm or Bird Rock Hotel
Julian, California
California's gold fever spread south after the Civil War to Julian in the coastal mountains near San Diego. The gleaming yellow metal petered out long ago, but a boomtown vibe endures along a Main Street flanked by historic structures.
The town is renowned for its apple pies and quick escapes into nature on the nearby Pacific Crest Trail, Cuyamaca Rancho State Park, Mount Laguna and the California Wolf Center.
Population: 1,700
Where to stay: Julian Gold Rush Hotel or Quiet Mind Mountain Retreat
Volcano, Hawaii
Tucked into the lush rainforest on the windward side of the Big Island of Hawaii, Volcano Village is both the gateway to Hawaii Volcanoes National Park and a cool destination in its own right.
Emphasis on both types of cool. Perched at 4,000 feet, the temperature is a lot cooler than beachside Hawaii. And it really does rain a lot in the rainforest. So pack something to keep the raindrops at bay.
Rub shoulders with local artists and artisans, scientists and national park rangers at cool joints like the Thai Thai Bistro & Bar or the Lava Rock Café.
Population: 760
Where to stay: Volcano Village Lodge or the Volcano House
McCarthy, Alaska
A genuine last frontier, this remote Alaskan burg is completely surrounded by the vast Wrangell-St. Elias National Park. The copper miners of bygone times are long gone, as are most of the vices that once lured them to McCarthy.
Nowadays, it's a hangout for bush pilots, wildlife photographers, adventure guides and a trickle of tourists who brave the rough and tumble McCarthy Road to get there.
The town is a jumping off point for visits to the nearby Kennecott Mines National Historic Landmark as well as hiking, rafting, fishing, mountaineering and scenic flights in Wrangell-St. Elias (the largest US national park).
Population: 107
Where to stay:Ma Johnson's Historical Hotel or Kennicott Glacier Lodge