Jazz, Soul, and Rock 'N' Roll Spectacular September Line-Up at Miller Outdoor Theatre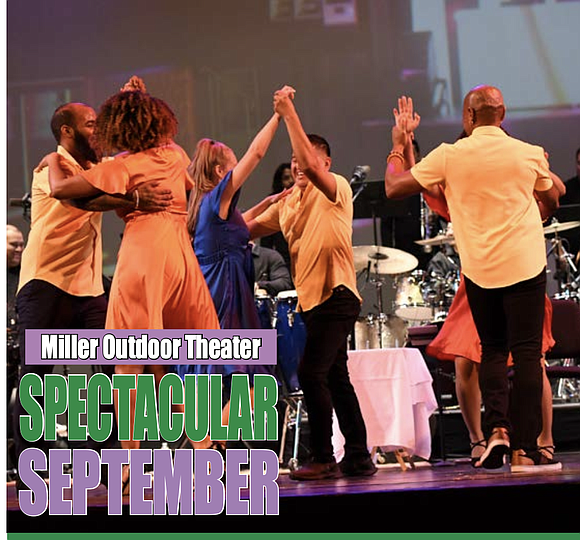 Miller Outdoor Theatre (MOT) keeps the entertaining performances coming this September. Check out the entire 2023 performance and event calendar and details on how to obtain FREE tickets for the covered seating at milleroutdoortheatre.com. As always, all MOT performances are free and open to the public. Staying home? Remember, many evening performances are livestreamed and available free at the Miller Dream Stream link on the website.
Evening Performances
Friday, September 1, 8pm
Luna Li and Dengue Fever in Concert produced by Asia Society Texas Center
Featuring Luna Li's gorgeous indie-rock dreamscapes, and Dengue Fever's electric update of Cambodian psych-rock, with a special guest performance by dance group UH Modern.
Saturday, September 2, 8pm
Mozart by Moonlight produced by Mercury Chamber Orchestra
A dreamy night featuring a selection of classical favorites by Mozart including "A Little Night Music," one of the most popular works of classical music of all time.
Friday, September 8, 8pm
Lakecia Benjamin and Phoenix produced by Da Camera
Award winning saxophonist Lakecia Benjamin fuses traditional conceptions of jazz, hip-hop, and soul. Her electric presence and fiery sax work has inspired invitations to share the stage with legendary artists including Stevie Wonder, Alicia Keys, and The Roots.
Saturday, September 9, 8pm
The Music of Sam Cooke – A Change is Gonna Come starring Bradd Marquis and the Magnificents
A fantastic new show depicting the life and music of one of America's most iconic and talented performers, the legendary Sam Cooke. This evening features a rip-roaring soulful performance alongside a live big band.
Friday, September 15, 7:30pm
El Grito at Miller Featuring Mariachi Nuevo Tecalitlán
Celebrate Mexican Independence Day with the stirring Grito ceremony followed by a rousing performance that encompasses the colorful heritage and culture of Mexico. Featuring the fabulous Mariachi Nuevo Tecalitlan. Presented in partnership with the Consulate of Mexico in Houston. Mariachi Nuevo Tecalitlán has an extraordinary history of being one of Mexico's best mariachi music ensembles with a A group of people playing instruments
Saturday, September 16, 8pm
The Houston Jazz Festival produced by Houston Jazz Collective
The American Master Series features the spectacular Duke Ellington Orchestra directed by Charlie Young. With special guests Paul Mercer Ellington and Tierney Malone, featuring the artwork of acclaimed artist Jack Whitten.
Friday, September 22, 8pm
Shinyribs
This Austin-based supergroup led by front man Kevin Russell describes itself as a sonic melting pot of Texas blues, New Orleans R&B funk, and horn-driven Memphis soul.
Saturday, September 23, 8pm
Romantic Masterpieces produced by Texas Medical Center Orchestra
The prize-winning Texas Medical Center Orchestra returns with a spectacular lineup filled with romantic music for Miller's 100th Anniversary season.
Friday, September 29, 7:30pm
ROCO in Concert: Seismic produced by ROCO
Two breathtaking world premieres and an exhilarating tale of love, intrigue, and adventure will dazzle audience members as ROCO kicks off its 19th performance season.
Saturday, September 30, 7:30pm
Salsa Y Salud produced by Foundation for Modern Music
Texas' biggest live Salsa and Dance show! Featuring international, regional, and local artists, in an original production.
Daytime Performances
Thursday, September 21, 11am
Dance of the Insects presented by Young Audiences of Houston
The study of entomology is so much fun when dance and poetry combine to tell the fantastic lives of insects, caterpillars, bees and more! Great for grades PK-3.