Skin Pharm Brings Luxurious Skin Care to Houston's River Oaks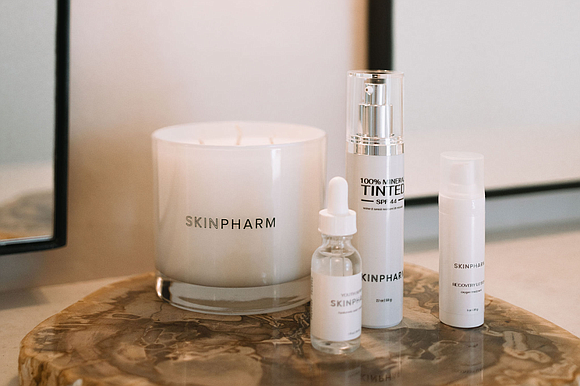 The Houston location is the sixth location for Skin Pharm. Maegan Griffin founded Skin Pharm in 2017, aiming to create a clinic environment and product lines she couldn't find (and knew she would love) as a patient herself. To that end, she built the brand on meticulous skill, lots of practice, and genuine passion, unmatched by others in the beauty industry.
I had the privilege of visiting the salon for a complementary treatment, one of the clinic's signature treatments, the Gold Infusion. According to their website, this treatment delivers a customized cocktail that'll have your skin seriously glowing. It certainly did. To my surprise, I left the visit with plump, vibrant, and glowing skin. The gentle stamping method delivers antioxidants, hydrating ingredients and even Botox beneath the skin. The clinician gently stamps these ingredients under your skin using a microinfusion device made of 24K mini needles. You are then left with plump, glowing, and youthful-looking skin – ready to take on the day! This treatment is suitable for all skin types and colors, including thin and sensitive. It also stimulates collagen production, refines skin texture, tightens pores and hydrates skin.
My treatment was done by Macy Siddiqi (PA-C). Born and raised in Houston, TX, Macy Siddiqi is an aesthetic injector and cosmetic dermatology physician assistant (PA-C) with experience both in dermatology and plastic surgery.
She began the session with an assessment of my skincare concerns, which was just excess oil (thank you Houston heat!) and made me feel comfortable as she applied a gentle numbing serum. As the serum set in place, I sat back, relaxed and indulged in the beautiful view of the Houston metropolis as I listening to soft music.
After about ten minutes, she began the Gold Infusion. I was surprised at how easy the process was, and my skin was left looking more plump and radiant. Macy recommended I continue getting the treatment once per quarter to help with my skin concerns and to maintain an overall glow. For patients with melasma and scarring, every 4–6 weeks; 4–6 treatments are recommended for best results. For aging, every 12 weeks; 4–6 treatments are recommended for best results.
If you are curious about trying a new skin care treatment and want to feel luxurious and pampered, I highly recommend Skin Pharm.
Skin Pharm also just announced a $15m investment from Prelude Growth Partners, that will assist the brand in additional clinic expansion and product development.