Ceremonia Appoints First C-Suite Hire As It Expands to 500+ Sephora Stores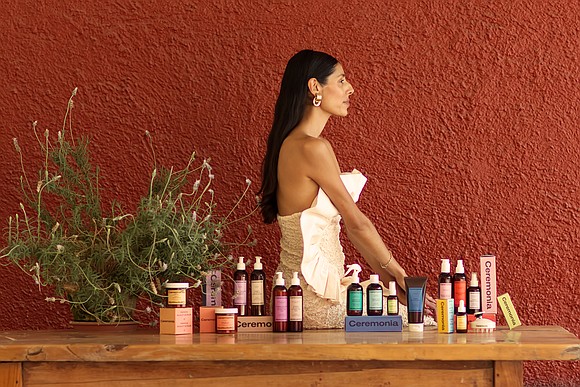 Ceremonia is no stranger to breaking barriers and disrupting the hair care industry. Since launching the brand in October 2020, with a mission to celebrate the richness of Latinx culture through clean, sustainable hair products powered by natural ingredients, Founder and CEO, Babba Rivera has no plans of slowing down. With tripling YoY revenues two years in a row and a growing line of 20 original formulas and products, Ceremonia is entering a new stage of growth as the next big thing in the hair category.
Today, Ceremonia is excited to announce its first C-Suite hire, Dana Onyewu, joining as Chief Commercial Officer to oversee the brand's expansion with Sephora. After just 2.5 years since launch, the brand is officially expanding into 500+ doors nationwide with Sephora as part of their Hair's Next Big Thing curation. Ceremonia is experiencing exponential growth as a pioneering Latinx beauty brand breaking new glass ceilings for the community with its 18-times award-winning hair care line.
"I am thrilled to kick off the first day of Women's History Month with the announcement of Dana Onyewu joining Ceremonia as our first C-Suite hire. Over the timespan of getting to know Dana through countless hours of chats and vision-sharing, I knew that we were truly mission aligned. Not only do we share similar core values on a business level, but we also share the same passion for hair and the personal relationship we have to our hair journeys. We are also equally committed to empowering women of color while challenging the status quo of the beauty industry.
Professionally, I'm so excited to tap into Dana's deep experience from clean beauty, hair and Sephora know-how, and I love that Dana also brings a background from community-driven sales. I feel lucky and more confident than ever to enter this next chapter of Ceremonia as the next big thing in hair with Dana by my side. " says Babba Rivera.
Dana brings decades of experience from both the hair and clean beauty categories, most recently serving as Vice President of North America Sales at Sephora-darling skincare brand TATCHA, which was preceded by roles at hair brands like DevaCurl, Redken and Pureology.
"I am excited to join a company with as strong of a mission and purpose as Ceremonia. Babba's commitment to representation as a must-have coupled with her passion for pushing the boundaries on what clean haircare can look like is inspirational and mirrors my personal values. Joining a company like Ceremonia that gives people the ability to feel connected to the products they use - not just in the formula - but also in the heritage that those products celebrate is energizing.
It is an honor for me to join an organization where I can bring my institutional knowledge to help build on the incredible achievements and growth to date. In my experience, community and purpose driven brands make a huge impact both socially and commercially and I am confident that the early growth Ceremonia has seen over the last 2.5 years is just the beginning.
In this role, I look forward to continuing my work with Sephora, a retailer who truly understands the hair and clean beauty space and has a shared commitment to elevating underrepresented brands," says CCO of Ceremonia, Dana Onyewu.
Dana will be overseeing the company's Sales & Education division, along with Global Sales, Retail Marketing and overall Commercial Strategy. With Dana's institutional knowledge and impressive track record in sales, retail and merchandising, she will play an instrumental role in the brand's direction and projected growth for years to come.
Please see attached for the official press release and link below for imagery. Would love it if you could share the news with your readers, additionally, please let me know if you are interested in chatting with Babba or Dana further about the expansion!