Adidas has received over 500 offers for massive unsold Yeezy merchandise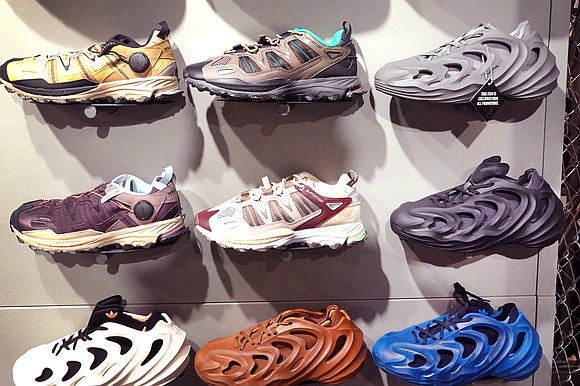 Originally Published: 10 MAR 23 11:22 ET
By Parija Kavilanz, CNN
(CNN) -- Adidas has received hundreds of offers for the mountain of unsold Yeezy shoes designed by Ye, the artist formerly known as Kanye West. Its CEO would prefer to just get rid of them entirely, but is struggling to figure out how to do it.
Adidas broke off its lucrative nine-year partnership with Ye in October because of his repeated pattern of antisemitic remarks. The move proved costly for the German sportswear maker, who warned that it could suffer its first annual operating loss in more than three decades this year, mostly because it may have to write off the entire range of Yeezy-branded clothing and sneakers. That represents a potential €500 million ($527 million) hit to the company's bottom line.
The company initially said it would continue to sell the lucrative sneaker and apparel line, but stripped of the Yeezy name and branding.
However, it seems Adidas CEO Bjørn Gulden is mulling a few other options, too.
Gulden said he's received over 500 offers to buy the existing Yeezy stock, but said he believed it "would not necessarily be the right thing to do."
"I think the goal that we have is to do what damages us the least, and that we do something good," Gulden told analysts during the company's earnings call on Wednesday.
The path forward with the Yeezy product stockpile is a complicated issue that "carries a lot of reputational risk," said Gulden.
"We could sell it with a small margin and give the margin away for different donations," he said, referring to charitable donations.
Destroying Yeezy merchandise, or burning it, poses more risks because "then you have another issue," he said. "People will say you cannot destroy it because it's a sustainability issue, right?"
Responding to an analyst who asked if Yeezy products could be donated to charity, Gulden said it was plausible but not possible.
"Of course, of course. But the people that are saying send shoes to Turkey or somewhere where people don't have shoes, or there has been a tragedy, I think you would agree, that these are not normal shoes," Gulden said.
He said the shoes would "come back again" in the market because of their premium status as pricey luxury fashion sneakers. "The value of the product is not the physical value of the ingredients. It is the branded merchandise that is sold at a high price," he said.
To his point, demand in the secondary resale market for Yeezy shoes is surging.
John Mocadlo, chief executive of Impossible Kicks, a large online reseller of high-end sneakers and clothing, said last month that demand for Yeezy sneakers had jumped 30% on its platform since last October.
"We sell about 30,000 sneakers in total every month. Probably 6,000 to 7,000 of those right now are Yeezys," he said.
Mocadlo said Impossible Kicks has about $2 million in Yeezy sneaker inventory currently, about 10,000 pairs. "It is getting a little bit difficult to get more because the inventory is starting to dry up after the controversy," he said.
Prices for Yeezy sneakers are climbing due to tighter supply, according to StockX, a leading sneaker resale platform.
"Since the start of the year, the average price of Yeezy sneakers has increased but sales overall have decreased on StockX," Drew Haines, director of sneakers and collectibles at StockX, told CNN.
"This is in line with the principles of supply and demand and consistent with what we'd expect to happen when no new supply is in the market," he said.
--CNN's Anna Cooban contributed to this story