Houston Equity Fund offering $8 million in grant funding for minority-owned small businesses
The online application portal for "Open for Business" grants worth up to $100,000 will be open from May 15-31.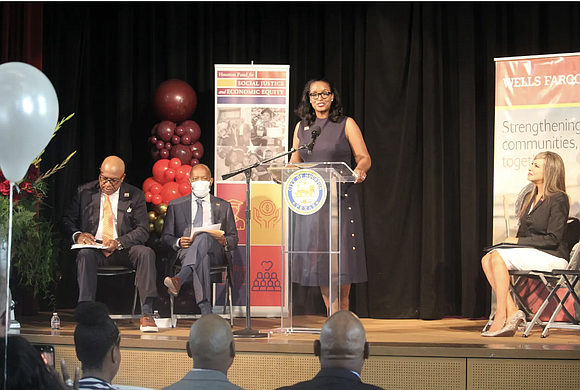 By Adam Zuvanich, Houston Public Media
Minority-owned small businesses and nonprofits in the Houston area can apply for up to $100,000 in grant funding later this month.
A total of $8 million is available this year during the second phase of the "Open for Business" grant program, which is funded by Wells Fargo and administered by the Houston Fund for Social Justice and Economic Equity. An online application portal for grant money is scheduled to be open from 5 a.m. May 15 through 11:59 p.m. May 31, with eligible businesses and nonprofits competing to receive awards ranging from $5,000-$100,000 apiece.
To be eligible, businesses and nonprofits must have been established before Dec. 31, 2021, and be located within Houston city limits. Eligible businesses must also be "mission-aligned" and "diverse-owned" with no more than 100 employees and no more than $3 million in gross revenue during 2022, according to the Houston Fund for Social Justice and Economic Equity, which says eligible nonprofits must be historically underserved organizations with no more than 100 employees.
The grants can be used for tangible assets such as land purchases and improvements, building construction or renovation, purchases of inventory, machinery, equipment and technology and improvements or modernizations of landscaping, parking lots, streets and utilities, among other uses.
"We are committed to bridging the economic gap in our city by supporting Houston's underrepresented and underfunded minority-owned small businesses and nonprofit organizations," Thomas Jones, the board president for the Houston Fund for Social Justice and Economic Equity, said in a news release. "It is our continued vision and mission to facilitate transformative change in our local communities."
The Houston Fund for Social Justice and Economic Equity, also known as the Houston Equity Fund, was established by the City of Houston in 2021. The Open for Business program is a three-year, $20 million initiative, with a total of $5 million having been awarded to more than 200 businesses and nonprofits during the first phase last year.
Grant recipients during the first phase are not eligible for awards during the second phase, but they can apply for additional funding as part of the third phase next year.
The Houston Equity Fund says on its website that the businesses and nonprofits it selects for the funding can "demonstrate direct, tangible and meaningful impact" related to the four pillars of the fund, which are community building, economic development, social and racial justice, and youth empowerment and education.