Jameela Jamil slams Met Gala for celebrating Karl Lagerfeld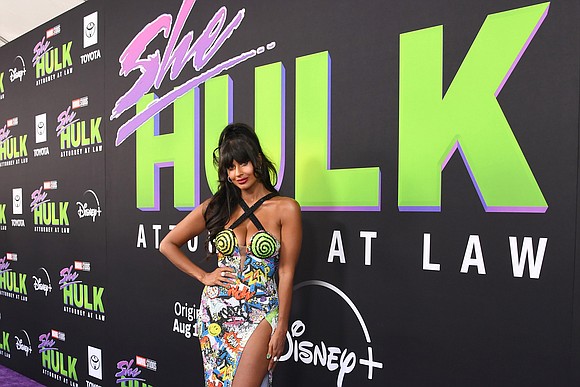 Originally Published: 03 MAY 23 10:51 ET
Updated: 03 MAY 23 12:02 ET
Issy Ronald, CNN
(CNN) -- Actress and body positivity advocate Jameela Jamil has criticized the Met Gala for celebrating Karl Lagerfeld—the influential fashion designer who died in 2019.
Jamil, best known for starring in NBC's "The Good Place," wrote on Instagram that "Hollywood and fashion said the quiet part out loud when a lot of famous feminists chose to celebrate at the highest level, a man who was so publicly cruel to women, to fat people, to immigrants and to sexual assault survivors."
The gala's theme this year coincided with an exhibition at the Metropolitan Museum of Art's Costume Institute, titled "Karl Lagerfeld: A Line of Beauty," which a Met spokesperson told CNN aligned with the museum's "mission to explore art and creativity from the ancient times through today, and to examine moments of great importance and impact so we can gain a deeper understanding of art and history and invite dialogue and further reflection.
"This year's Costume Institute exhibition does just that, by presenting the work of a singularly impactful designer—Karl Lagerfeld—whose innovation and unique working methodology have made undeniably seismic contributions to the worlds of both fashion and art."
CNN also reached out to Vogue, which organizes the gala, for comment.
Celebrities, fashion elite and New York's high society walked the famous red carpet at the Metropolitan Museum of Art on Monday, wearing extravagant outfits that paid homage to Lagerfeld, who was best known for transforming Chanel into one of the world's most valuable fashion houses during his time as its creative director.
But for all his influence as a designer, he was also a controversial figure, making a number of disparaging statements that upheld narrow standards of beauty or cast criticism on the #MeToo movement.
He also sparked outrage in 2017 when he criticized then-German Chancellor Angela Merkel for offering refuge to people fleeing conflict.
"This isn't about cancel culture," Jamil added in a caption, explaining her post. "It's not even about Karl. It's about showing how selective cancel culture is within liberal politics, in the most blatant way so far."
She added that "slippery tactics and double standards like this" contribute to an erosion of trust toward liberals.
Jamil, whose body positivity Instagram account "I Weigh" has more than a million followers, previously criticized the Met Gala in October, calling the theme a "disappointing double standard" in the industry and pointing out that Lagerfeld's comments were recent.