The US economy grew faster in the first quarter than previously reported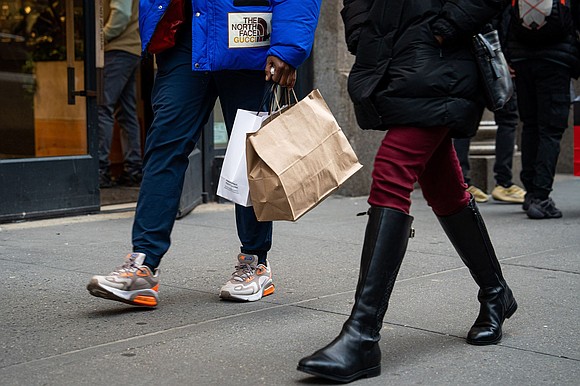 Originally Published: 25 MAY 23 08:32 ET
Updated: 25 MAY 23 09:55 ET
By Bryan Mena, CNN
Washington, DC (CNN) — US economic growth in the first three months of the year was faster than previously estimated, the Commerce Department reported on Thursday.
Gross domestic product, the broadest measure of economic output, increased at an annualized rate of 1.3% in the first quarter, up from an initial estimate of 1.1% reported last month. GDP is adjusted for inflation and seasonality.
The change was mostly driven by an upward revision to private inventory investment, which includes finished goods, materials, and works in progress being saved for a later date. That means inventory investment had less of a drag on GDP earlier this year.
GDP grew at a slower pace in the January-through-March period compared with the previous quarter and was below economists' expectations. Robust consumer spending, which accounts for about two-thirds of economic output, helped fuel the first quarter's growth, along with strong government outlays. Businesses cut back their spending on equipment during that period.
So far, economic activity seems to be holding up. Retail sales rebounded in April following two months of declines, advancing a seasonally adjusted 0.4% from the prior month. Employers added 253,000 jobs in April, a strong gain, and average hourly earnings grew 0.5% that month.
Private-sector business activity expanded at a robust pace in May, mostly thanks to the services sector, according to preliminary survey data released by S&P Global on Tuesday. Service-providing businesses reported stronger demand, an easier time hiring workers and increased optimism for business activity in the year ahead. Meanwhile, the US manufacturing sector fell back into contraction territory in May as manufacturers reported substantially weaker demand.
"The US economic expansion gathered further momentum in May, but an increasing dichotomy is evident," wrote Chris Williamson, chief business economist at S&P Global Market Intelligence, in a release. "While service sector companies are enjoying a surge in post-pandemic demand, especially for travel and leisure, manufacturers are struggling with overfilled warehouses and a dearth of new orders as spending is diverted from goods to services."
Consumer spending remains a force
Strong leisure spending is expected in the coming summer months as consumers open up their wallets for in-person experiences such as travel and dining out. That means big business for leisure and hospitality, which could also prop up employment levels for that industry.
The Commerce Department releases April figures on household spending, personal income and the Fed's preferred inflation gauge on Friday.
"It looks like consumers are still in good shape and we attribute that to low debt levels, strong balance sheets in terms of high levels of savings, so we expect spending to stay positive in the second quarter," Luke Tilley, chief economist at Wilmington Trust, told CNN in an interview. "I think that we'll continue to see a strong economy, and that's best gauged by the labor market."
Still, Federal Reserve economists forecast a mild recession later in the year. Economists, including former Fed Chair Ben Bernanke, believe an economic downturn is necessary to cool the labor market and subsequently bring inflation down to the central bank's 2% target.
However, the extent to which tougher lending standards and the lagged effects of monetary policy will weigh on the economy remains unclear. Fed officials speculated that those factors could have a greater-than-anticipated effect, according to minutes from the Fed's May policymaking meeting released on Wednesday.
"In discussing sources of downside risk to economic activity, participants referenced the possibility that the cumulative tightening of monetary policy could affect economic activity more than expected, and that further strains in the banking sector could prove more substantial than anticipated," the minutes said.