Legendary Astros Manager Dusty Baker Retires After Four Remarkable Years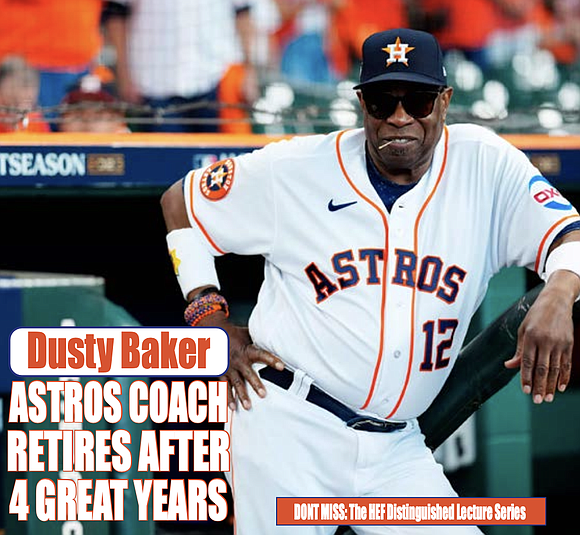 In January 2020, when Houston Astros owner Jim Crane made the tough call to part ways with manager A.J. Hinch due to the team's involvement in the 2017 sign-stealing scandal, he needed a leader who could steer the ship through turbulent waters. That leader was none other than baseball legend Dusty Baker.
Baker, a figure with unparalleled baseball experience and a personality that resonated with the players, was the perfect choice to guide the Astros. Crane, who had owned the team since 2011, recognized Baker's exceptional qualities, stating, "He's a winner and, more importantly, a strong leader who has earned the respect of not only his players but of virtually everyone that he has touched in baseball."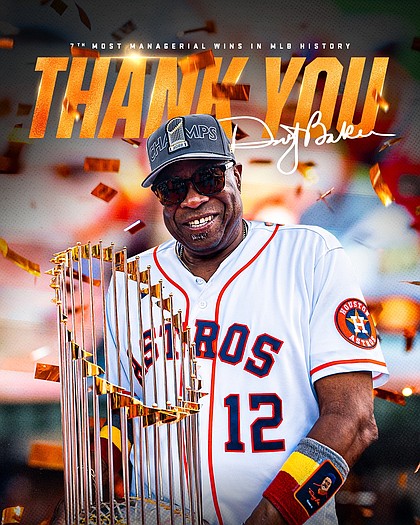 At the age of 74, Baker's wealth of baseball knowledge revitalized the Astros. Under his leadership, they clinched three American League West Division titles, reached four consecutive American League Championship Series, and made two World Series appearances. Finally, in 2022, Baker achieved his dream as a manager when the Astros claimed the World Series, making him the oldest manager to lead a team to victory.
However, as the old saying goes, "All good things must come to an end." Just last Thursday, Johnnie B. "Dusty" Baker Jr. retired after an illustrious four-year tenure with the Astros.
He leaves behind a legacy as one of the most accomplished managers in MLB history, boasting 2,183 reguar-season wins, placing him seventh all-time on the list of managers with more than 1,000 victories.
Reflecting on his tenure, Baker stated, "It was probably the quickest four years I've ever spent in my life. That's what happens when you win."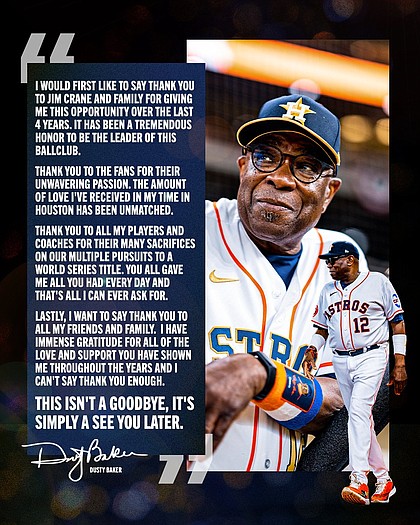 Dusty Baker embodied the essence of a lifelong baseball enthusiast, sharing anecdotes from his illustrious career. He famously recounted how he and his teammate Glenn Burke invented the "High Five" in 1977 during his time with the Los Angeles Dodgers. He was also on deck when Hank Aaron hit home run No. 715 to break the all-time record.
Baker did not shy away from discussing the racism he encountered early in his professional baseball career, emphasizing the need for diversity in MLB, where he was one of just two African American managers (alongside Dave Roberts of the Los Angeles Dodgers).
With his son, Darren Baker, pursuing a career in the Washington Nationals' minor league system, Baker looks forward to watching him play in the upcoming season and hopes to play a role in the MLB. When not engaged in baseball, he intends to spend quality time with his grandchildren and foster the growth of his wine business.
As Baker concluded his press conference, he posed for pictures with the attending media, his signature smile lighting up the room, just as it had four years ago when he first walked through the door.
Thank you for the unforgettable memories, Dusty. ⚾👏 #DustyBakerLegacy