Houston City Council At-Large #2 Candidate Danielle Keys Bess Hosts Election Night Watch Party at The Savoy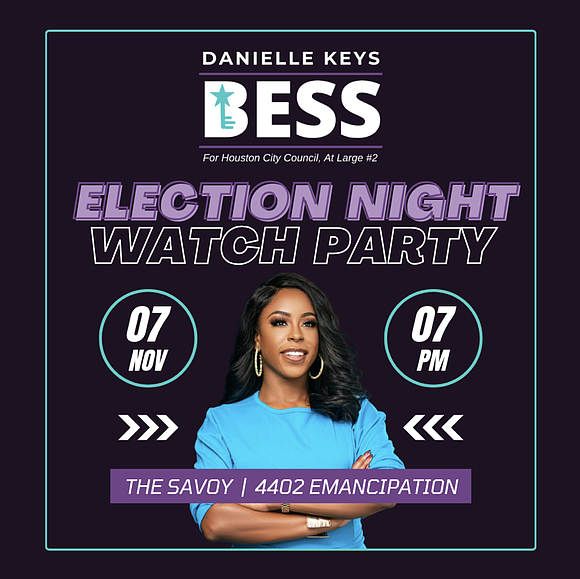 WHAT: Houston City Council Candidate Danielle Keys Bess' Election Night Watch Party at The Savoy

WHEN: TONIGHT - Tuesday, November 7, 2023
TIME: 7:00pm

WHERE: The Savoy - 4402 Emancipation Ave., Houston, TX 77004 (Third Ward)
HOUSTON, TX- November 7, 2023: Houston City Council At-Large Position 2 Candidate Danielle Keys Bess will be hosting an Election Night Watch Party, tonight, Tuesday, November 7, 2023, at 7:00pm at The Savoy, located at 4402 Emancipation Ave., in Houston's Historic Third Ward!
Candidate Bess, along with her campaign staff, volunteers, and supporters, invite the community to join them for an exciting election night as they watch the results come in live tonight on big screen TVs both inside and on the large outdoor patio at The Savoy!
Bess is expected to join the festivities at The Savoy after the polls close. The event will include additional entertainment, comments from Candidate Bess, and The Savoy will have their full food and handcrafted beverage menu available.
Bess, a life-long member of the Houston community who recently received the endorsement of Houston Mayor Sylvester Turner, launched her campaign for Houston City Council At-Large #2 in January 2023. The focal point of Bess' campaign is her commitment to representing all segments of Houston's diverse and vibrant community at City Hall. Her vision encompasses providing critical resources in education, public safety, youth and senior initiatives, community programs, infrastructure, environmental preservation, arts and entertainment, business opportunities, small business support, and transportation.
Bess holds a bachelor's degree in communications from the University of Texas at Arlington with Cum Laude honors, and an Executive MBA from Texas Women's University. As the daughter of a U.S. Navy Veteran and a Woman-Owned Small Business/Entrepreneur, who were both raised in the segregated south, the characteristics of strength, service, leadership, and hard work were instilled in her at a young age.
Bess has worked with prominent leaders at all levels of government including Obama for America (Houston), Sheila Jackson Lee for Congress Campaign (15 years), Annise Parker for Mayor, and Ron Kirk for Senate Campaign and has a proven track record of excellence in public and government affairs, conflict resolution, strategic communications, fundraising, project management and community outreach initiatives.


The 15-year licensed Texas Real Estate Professional has also served as a project manager and sales consultant for affordable housing developments that have placed over 100 families in newly constructed single-family properties, with a 0% foreclosure rating. She has assisted in the disaster recovery efforts that focused on the rebuilding and/or remodeling of the homes of Senior citizens throughout Houston and has been an active part of many community development projects, funded from both the private and public sector, that removed blight and created beautification concepts in spaces that were historically underserved.

In addition to the recent endorsement from Houston Mayor Sylvester Turner, Bess has received endorsements from key national, state, and local leaders and organizations, further solidifying her standing in the race:
Rev. Jesse Jackson, Sr.
Grammy-Nominated Artist Ashley Ta'mar Davis
U.S. Congresswoman Jasmine Crockett
Council Member Carolyn Evans-Shabazz
Commissioner Grady Prestage
State Senator Borris Miles
Former Controller Ronald C. Green
Commissioner Dexter McCoy
State Representative Ron Reynolds
Former Council Member Jew Don Boney
Former DC Council Member Brandon Todd
SBOE Trustee Staci Childs
Former Commissioner Gene Locke
Former Council Member Ben Reyes
Across the Track PAC
Black Women of Greater Houston PAC
Oak Forest Area Democrats
Afro American Sheriff's Deputy League
Rapper, Professor & Activist Bun B
Community Champion Clara Caldwell
Community & Spiritual Leader William A. Lawson
HFT President Jackie White Anderson
Community & Spiritual Leader Dr. Marcus Cosby
Community & Spiritual Leader Rev. James Nash
Community & Spiritual Leader Rev. Terry K. Anderson
Community & Spiritual Leader Rev. Reginald DeVaughn
HESP Union Leader Wretha Thomas
Descendent of Jack Yates & First African American Woman Postmaster Jacqueline W. Bostic
Community Leader Shelley Kennedy
National & Community Activist/Advocate Trae Tha Truth
For more information, please visit http://www.bessforhouston.com.