Serena Williams, Kim Kardashian and more red carpet looks from the CFDA Awards
Originally Published: 07 NOV 23 13:24 ET
By Leah Dolan, CNN
(CNN) — On Monday night in New York City, the Council of Fashion Designers of America (CFDA) presented its annual Fashion Awards at the American Museum of Natural History. It's one of the biggest events of the year for industry insiders and creatives, as the ceremony aims to promote US designers on a global stage.
New York-based designer Willy Chavarria, known for his Chicano-inspired oversized pants and collared shirts, took home the prestigious Menswear Designer of the Year award, while Catherine Holstein — founder of the minimalist label Khaite, which made its name with sexy-yet-sophisticated knitwear — received the corresponding prize for womenswear. (The Row, a cult-favorite brand founded by the Olsen twins, won out in the best accessory design category.)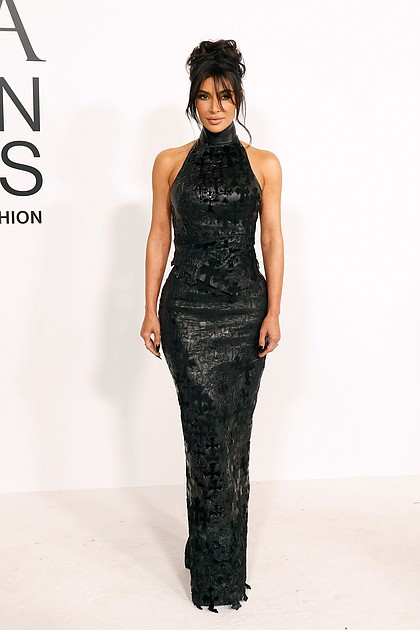 The event's dress code often skews elegant over extravagant; for example, a well tailored black suit, as worn by former J. Crew president and current "Real Housewives of New York" cast member Jenna Lyons, is considered classic rather than forgettable. Although a number of A-list celebrities — with fashion trailblazers Gwyneth Paltrow, Chloe Sevigny and Demi Moore among them — were on-hand to steal the show.
Anne Hathaway's floral printed double-denim ensemble, featuring pieces from Ralph Lauren's Spring-Summer 2024 collection, was among the more notable red carpet looks. (While yes, it does conjure comparisons to the blue jean ball gown Britney Spears infamously wore to the 2001 American Music Awards, it's moreso an homage to the Western aesthetic that has long served as inspiration for the brand.) Ralph Lauren himself is a long time member of the CFDA, having received a Lifetime Achievement Award in 1991 and the CFDA's Fashion Legend trophy in 2007.
Serena Williams, who became the first athlete to be honored as a CFDA Fashion Icon, similarly opted for an all-American designer. Williams arrived at the Natural History Museum in a black sequined gown by Thom Browne — who is currently the chairman of the CFDA — with sculptural embellished puff-sleeves and a dramatic train.
"I knew when I was a little girl that I was different, so I explored fashion and style as a way to distinguish myself," Williams said as she accepted her award. "In many ways for me, the tennis courts became my runway, and the U.S. Open was my own New York Fashion Week."
Elsewhere, Vanessa Hudgens stepped out in a classic black Vera Wang princess gown with a sweetheart bodice and leather elbow gloves. It's the second time Hudgens has worn Wang to the CFDA Awards, having turned heads last year with a lingerie-inspired look. This year, Hudgens was presenting the celebrated designer with a tribute for her impact on bridal fashions. The elegant gown — featuring the timeless structured bust and draped voluminous skirt silhouette favored by Wang — could have been the perfect wedding dress for a bride bold enough to go gothic, making it the perfect look for the moment.
Kim Kardashian and Law Roach, meanwhile, broke from the ranks and chose to amplify smaller US designers in two equally eye-catching looks.
Kardashian's black leather fitted halter neck gown — decidedly understated compared to the Barbie pink Balenciaga dress she wore to the LACMA Gala earlier this week — was made by Los Angeles-based label Chrome Hearts; Roach arrived in a deconstructed business suit from the buzzy Brooklyn-brand Luar. On his bottom half, the stylist's white briefs were exposed in lieu of pants. (Roach accessorized with a pair of fishnet stockings, as well as shades and a purse.)