Movie Review: The Marvels
Rascal F. Kennedy, Entertainment Writer | 11/8/2023, 9:22 a.m.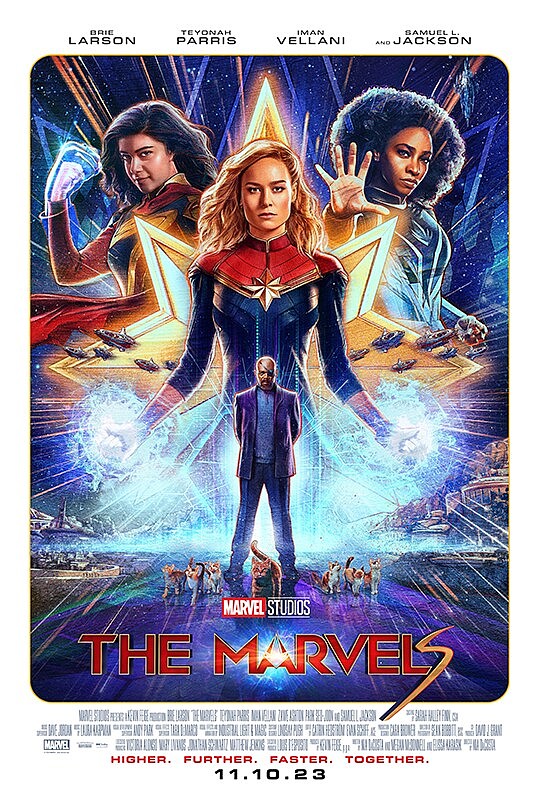 Captain Marvel, portrayed by Brie Larson, made her entry into the Marvel Cinematic Universe (MCU) with her standalone film set in the 1990s. The character, with her indomitable spirit and a past she left behind to rectify her mistakes across the galaxy after learning the truth about the Kree, later returned in "Avengers: Endgame," demonstrating her remarkable powers. Likewise, Monica Rambeau, played by Teyonah Parish, who featured in "Captain Marvel," rose to prominence in the Disney+ series "WandaVision." Meanwhile, Kamala Khan, also known as Ms. Marvel and portrayed by Iman Vellani, had her own titular show chronicling her origin on Disney+. Now, these three luminous characters, each harnessing energy and light, unite as one super-powered team in "The Marvels."
"The Marvels" boasts a straightforward plot that benefits from some prior research before watching the film, as I will elaborate on shortly. At its core, Dar-Benn, played by Zawe Ashton, assumes the role of the new Kree leader and ruler of their home planet Hala. Her sole mission is to secure resources for her home planet, which leads her on a destructive rampage across the galaxy. To counter her, The Marvels must join forces to thwart her ambitions.
Although the plot may appear simple in description, its execution is where it truly shines. Director Nia DaCosta, along with writers Megan McDonnell and Elissa Karasik, bring this story to life with nearly flawless precision. The film delves into themes of family and redemption, offering a relatable and heartwarming narrative that provides a welcome departure from the grief-stricken backgrounds of the characters.
"The Marvels" is not merely a bridge film aimed at elevating the stakes within the MCU; it stands as a meticulously crafted work of cinema. The writing is just as integral as the acting, with Brie Larson, Teyonah Parish, and Iman Vellani exhibiting remarkable chemistry. The camaraderie of the "Ms. Marvel" cast is seamlessly integrated into the film, contributing to its overall appeal. The performances of Mohan Kapur, Saagar Shaikh, and Leila Farzard as Kamala Khan's family are consistently outstanding, and Samuel L. Jackson continues to impress as Nick Fury, effortlessly fitting into the MCU's narrative.
While the film isn't entirely free from minor issues, such as occasional CGI discrepancies, it remains a delightful cinematic experience. The action sequences are exceptionally well-choreographed, and for every imperfection, there's a moment that will make you laugh, smile, and thoroughly enjoy the film.
"The Marvels" embarks on a journey in multiple dimensions, traversing time and space across various planets and solar systems, while also embarking on a profound introspective voyage. It is a tale of self-discovery, applicable not only to Captain Marvel but also to Ms. Marvel and Monica Rambeau. Each of these superheroes must delve deep into their own identities to comprehend themselves.
The film's score, composed by Laura Karpman, resonates with the original MCU films, evoking a nostalgic ambiance. Sean Bobbitt's cinematography impresses with dynamic camera work, including swinging shots and trolley-mounted cameras. The editing plays a pivotal role, as exemplified in the trailer's portrayal of heroes switching places, a feat accomplished by the exceptional work of the editing team. These three essential elements, when combined, elevate the overall quality of "The Marvels."
The MCU has faced some underwhelming moments post "Infinity War," but "The Marvels" stands as a remarkable exception. It is a meticulously planned endeavor from start to finish, with Nia DaCosta's exceptional directorial effort deserving high praise. This film surpassed my expectations, offering heartwarming moments, humor, and an abundance of fun.
Rating: 8.5/10