All Access Art Show, LLC. Reveals Groundbreaking Mural Initiative in Collaboration with the U.S. Army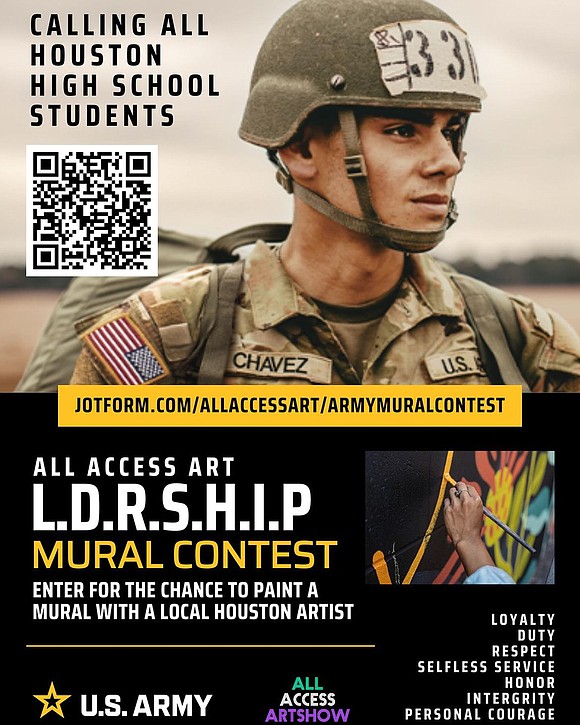 The All Access Art Show, LLC. is excited to unveil a groundbreaking initiative aimed at addressing the decline in military enrollment among communities of color, specifically targeting Hispanic and Latino students. This transformative project harnesses the power of art and community engagement to promote the benefits of military service and dispel misconceptions about life after military enrollment.
The initiative's focal point is the creation of captivating murals in prominent locations within Houston, Texas. These murals will serve as a visual representation of the connection between art enrichment and the core values of the U.S. Army, namely Loyalty, Duty, Respect, Selfless Service, Honor, Integrity, and Personal Courage, collectively referred to as L.D.R.S.H.I.P. Highlighting the central role of art in this endeavor, acclaimed visual artist Floyd Mendoza and the talented Premo have been selected to craft these vibrant murals. The project locations include Kipp NE Preparatory School, Meca Community Center, and Macarthur Senior High School all situated in predominantly Hispanic communities within Houston.
The mural project's objectives in Houston are as follows:
Collaboration with the Houston-based U.S. Army 5th Recruiting Battalion: All Access Art Show, LLC. will partner with the local U.S. Army Battalion to foster a meaningful connection between the military and the Latino community in Houston.
Engagement of Local Latino Artists: This initiative will provide a platform for local Latino artists to demonstrate their artistic prowess, enriching the cultural tapestry of the city.
Involvement of High School and College Students: High school and college students will be actively engaged in the mural design and implementation process, offering them a unique opportunity to contribute to their community.
Promotion of Army Core Values: The murals, masterfully created by Floyd Mendoza and Premo, will visually depict the Army's seven core values, promoting positive values and personal growth among young adults in the Houston Latino community.
All Access Art Show, LLC. envisions this project as an inspiring symbol for the Houston community, fostering pride, unity, and igniting interest in military service among Latino youth. These murals stand as a testament to art's potency and a celebration of Houston's rich Latino heritage. Commencing in May 2023, this project promises to leave a lasting legacy in the community for years to come.
For more information about this initiative, please visit goarmy.com on allaccessartshow.com or contact All Access Art Show, LLC. at dirctors@allaccessartshow.com
About All Access Art Show, LLC.
All Access Art Show, LLC. is a dynamic organization dedicated to promoting art and community engagement as powerful tools for social change. Committed to inspiring individuals and fostering cultural appreciation, the organization spearheads innovative projects that bridge art, community, and meaningful impact.