Battling the Politics of Hate Head-On
Recap of Biscuits, Grits and Politics forum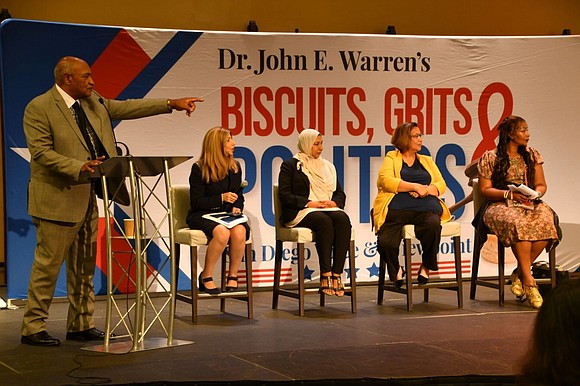 By Macy Meinhardt, Voice and Viewpoint Staff Writer
In the second Biscuits Grits and Politics (BGP) event of the year, representatives from a variety of ethnic groups spoke to audience members about how different communities can come together as one in the face of hate.
Fresh breakfast and dialogue were served on the menu Tuesday morning as attendees gathered to discuss and share their perspectives on how political deviations of hate have infiltrated and impacted a diverse range of communities within the county.
Dr. Warren, the Publisher of San Diego Voice and Viewpoint, welcomed a crowd of more than 100 attendees at the Jacobs Center— emphasizing the intention of the day was to yield solutions, recommendations, and productive dialogue.
Representatives from publications and organizations representing Islam, Black, Filipino, and Indigenous Native communities took part in a panel discussion covering a range of issues related to hate, such as misinformation, resources, hate crime reporting, statistics, preventive measures, and more.
Voice and Viewpoint have been reporting on hate crimes since 1987, however, the notion of hate has risen considerably in recent years. In the last decade, 170 hate crime incidents have been reported by the San Diego County Sheriffs with the highest targeted ethnicity being African American, 64 incidents, followed by Jewish, 16 incidents, and Latino,14 incidents.
It's important to note, however, that statistics such as hate crime reports only encapsulate incidents that go officially reported. In fact, hate crime is believed to be one of the most underreported crimes, according to District Attorney Summer Stephan, who spoke at the event.
The State of California defines a hate crime as a crime against a person, group, or property motivated by the victim's real or perceived protected social group. Protected classes of identity include race, gender, ethnicity, sexual orientation, religion, and disability.
"We do believe it's one of the most underreported crimes and that's because there is a lot of shame in it and the victim doesn't want to share what happened to them. Because somehow they feel that there's something wrong about them that allowed this other person to act the way they did," said Stephan, at the Tuesday BGP event.
Publisher of the Filipino Press, Susan De Los Santos was also on the panel. To the prevalence of underreported hate crimes, her perspective was that it could be attributed to fear of retaliation.
"That's one of the things, they [victims] are afraid for themselves, they are afraid for their families because there might be retaliation," said De Los Santos. Other speakers on the panel, such as Tazheen Nizam, noted that victims of hate crimes can be undocumented citizens, which serves as another reason victims may feel afraid to speak up.
Meanwhile, from a prosecutor's lens, Stephan also spoke on how hate-related incidents can have impacts that expand beyond just one targeted individual.
"You are victimizing everybody in the community that shares their identity or race or religion, their ethnicity or gender. You essentially take out one person theory, but you leave a ripple effect, or everyone and every child in that community feels that fear."
In regards to the escalating global crisis amid the Israel-Palestine war, panel speaker Tazheen Nizam, who is with the Council on American-Islamic Relations, spoke on how the prevalence of hate is feeding into Islamic communities in America.
Meanwhile, the forum is sponsored by Stop the Hate Program, a California funding initiative that came in response to the visible rise in anti-Asian hate speech on a local and national level in recent years. In 2021, the California State Legislature passed a historic $165 million into Asian Americans and Pacific Islanders equity budget.
While the funding serves all populations who are subject to incidents of bias and hate crimes, some attendees raised the question as to why the Asian community receives dedicated landmark funding when Black people historically have, and continue to be, the race targeted with the highest amount of hate crime incidents.
Amongst the state, anti-Black fueled events increased almost thirty percent in 2022, jumping from 513 in the previous year to 652.
In a Q&A session that followed after the panel, one attendee asked DA Stephan how her organizational ties "can help Black people get [the] fair share of the pie on hate crime money?"
Stephans replied, asserting that as newly elected President of the National District Attorney's Association, bringing more funding down from the Capitol and into San Diego for all hate crime and victim advocacy programs is "a top priority" on her upcoming agenda.
"One of the top things on my agenda is to discuss how we make this a national issue by bringing funding down not just for law enforcement prosecution, but for the victim advocacy and community advocacy that needs to happen in order for people to feel comfortable reporting, and also for people as was mentioned to heal from the trauma of hate crimes and racism," said Stephan.
Meanwhile, another attendee spoke on the importance of all ethnic groups coming together as one unified force to efficiently combat hate, rather than going at it from a segregated standpoint.
"I am curious, I see a lot of teams….I see a lot of ethnicities, but we all have to understand that we are all on the same team," the attendee said. "So when something happens in your community, it happens in my community…. There is power in numbers, there can only be one team."
In regards to unity, Nizam also shared, "We have to decolonize ourselves, our minds, and realize we are all the same."
As the panel and Q&A session wrapped up, Dr. Warren reminded audience members that a local hate crime hotline is available for individuals looking for access to culturally competent resources and reporting methods to hold hate accountable. Local hotline sources can be reached at 619-515-8805, and hatecrimes@sdcda.org
Join us in more meaningful and productive discussions at our upcoming event, "Biscuits, Grits, and Politics," on Nov.14th.