Houston OEM Announces First Preparedness Manager For Vulnerable Communities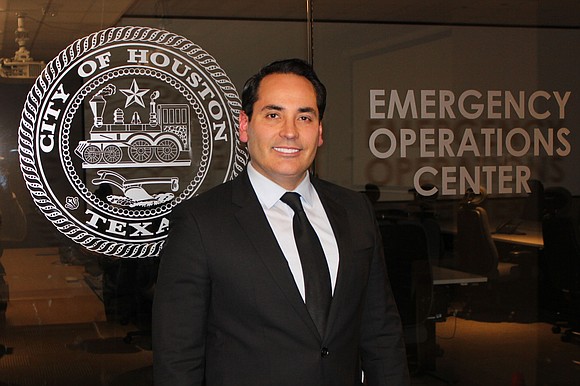 The Houston Office of Emergency Management (OEM) is excited to announce the creation of a new position, the Emergency Preparedness Manager for Vulnerable Communities. This position focuses on integrating the needs of people with Disabilities, Access, and Functional Needs into City emergency plans, educating these communities on how to prepare for disasters, and serving as an important liaison with the Mayor's Office for People with Disabilities (MoPD).
"Houstonians with disabilities are often unable to access emergency shelters, transportation, and evacuation plans due to limited emergency preparedness communications, outreach, and community education," said Thomas Muñoz, the Deputy Director for the Mayor's Office of Public Safety and Homeland Security and Emergency Management Coordinator. "Establishing a position like this is critical to the success of the OEM mission and the vision to be a national leader in emergency management that serves as Houston's trusted and compassionate resource for the whole community during the worst of times."
The Emergency Preparedness Manager for Vulnerable Communities will be a key collaborator, working with leaders in local healthcare, non-government and faith leaders, and emergency planners to advocate for those who often require more resources during all phases of an incident-preparedness, response, recovery and mitigation.
"The creation of this position sends a clear message to Houstonians with disabilities, access, and functional needs. It says that Houston is doing what is necessary to keep our residents safe from disasters and it sets the tone for other cities," said Angel Ponce, Director of the Mayor's Office for People with Disabilities.
Julian Ochoa has been selected as the inaugural Emergency Preparedness Manager for Vulnerable Communities. Ochoa accepts this new role after working with OEM as a Community Engagement Coordinator updating the City's plans for Comprehensive Emergency Management and Hazard Mitigation, as well as the Office's DAFN Framework. Prior to his time with the City, Ochoa worked for Harris County, BakerRipley, and UNESCO United Nations Paris within the Legal Committee of Human Rights and Resilience Committee, U.N. United Nations Vienna, Department for Drugs and Crime Prevention (UNODC).
Ochoa holds a Law Degree from Universidad Catolica del Táchira, Venezuela; a Masters in International Business (Harvard Negotiation Program) from Pompeu Fabra University School of Business in Barcelona, Spain, and is a former Doctoral student at the Universidad de Salamanca Law School in Salamanca, Spain.  In his downtime, Julian loves to enjoy time with his wife and children.