Up Norway's New Nordic Wellness Journey through Scandinavia Combines Pioneering Happiness Traditions, Sleep Therapy, Nature-Inspired Spa Treatments, Forest Bathing, Underwater Sauna, Soft Adventure &
Norway's Leading Sustainable Luxury Travel Curator Now Extends Planning Services into Denmark and Sweden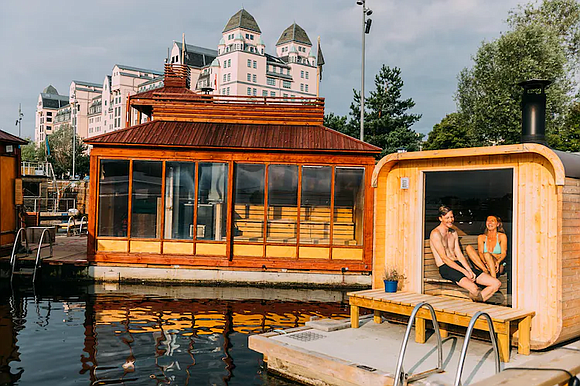 Up Norway, a leading curator of sustainable luxury travel, is now offering a 15-day Nordic Wellness Journey through Scandinavia. Exploring some of the most sustainable destinations in the world, including Gothenburg, Bergen, and Copenhagen, Up Norway now extends its planning services beyond the Norwegian borders. The heralded company's newest offering invites travelers to experience the traditional Nordic wellness practices that contribute to the region's consistent ranking atop the Global Happiness Index alongside unique gastronomic experiences, mental and physical activity, sleep therapy, and more.
The journey begins in Copenhagen to see how the city integrates sustainability into everyday life. From here, a day trip to Skovtårnet in South Zealand includes a forest walk with breathtaking panoramic views. The outing also includes a detour to the geologically fascinating Møns Klint. Next up, a train journey down the west coast of Sweden takes travelers to the next stop at Ästad Vingård, an organic vineyard and boutique spa hotel. Here, travelers will enjoy fine dining and nature-inspired spa treatments at the Sinnenas Spa (Spa of the Senses) with various saunas, including a unique offering underwater.
The next part of the journey focuses on healthy sleep in the tranquil landscape of Norway. Through a collaboration with the Oslo Sleep Clinic, Up Norway sets up travelers with hands-on sleep therapy. After getting a full night's sleep, travelers have the chance to explore Oslo by foot and water, including a private floating sauna experience just off the harbor, and fully decompress at The Well, an innovative wellness oasis. Next, travelers embark on a rail journey to Norway's UNESCO heritage-protected fjord region, aboard both the Oslo-Bergen and Flåm Railways, each offering views of the country's famed fjords. At eco lodge 29|2 Aurland, travelers turn back time and disconnect into rural culture. The adventure continues with a cruise through the majestic Sognefjorden, known as the 'King of the Fjords.' The next stop is Bergen to indulge in the vibrant bar and restaurant scene, complemented by chic accommodations.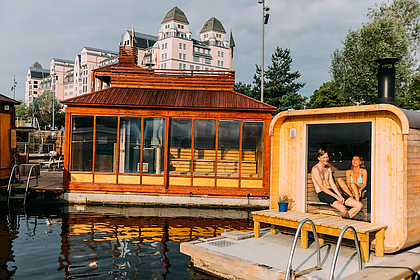 Coastal wellness awaits travelers as they arrive at their next stop: the Island Kingdom of Austevoll, a community of over 600 islands with a strong gastronomic focus. Here, travelers experience an outdoor hot tub, guided hikes, explorations of Viking burial grounds, island gastronomy, and a culinary tasting at Mirabelle, the brand new restaurant by Bocuse d'Or 2015 winner Ørjan Johannessen. The final part of the journey brings travelers back to where it all began in Copenhagen, to spend their last evening exploring the city's culinary scene and embracing the heralded Danish lifestyle. For those seeking an extended wellness experience, an optional third week in the Arctic Circle region awaits, with visits to Lofoten, Vesterålen, and Andøya, offering opportunities to witness the mesmerizing Midnight Sun and Northern Lights.
Up Norway provides effortless travel experiences every step of the journey over dates of one's choosing. Guests are provided with a comprehensive pre-trip digital guide filled with insider tips and recommendations, all travel details, and a 24-hour direct chat to access the Up Norway team with any questions.
'Nordic Wellness: A Feel-Good Journey through Scandinavia' is offered April through October starting at $9,978 per person. Additionally, in November, Up Norway is offering a complimentary travel planning call for travelers interested in discovering more about summer 2024 journeys. Lodging and all local transfers from arrival to departure are included as well as various privately guided tours, select meals, and a digital itinerary provided by Up Norway. For more details, please visit https://upnorway.com/journeys/nordic-wellness-feelgood-journey-through-scandinavia.