Honors Brings a Chic New Dress Code to Women's Golf
New Sportswear Company Founded & Designed by Three Female Golfers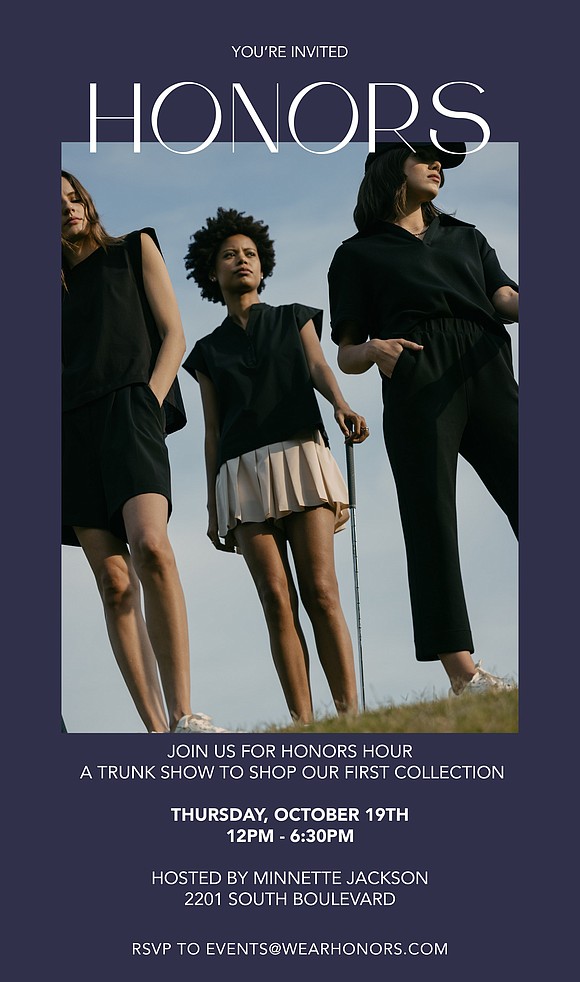 Matching a modern aesthetic with high performance fabrics, the golf and lifestyle brand Honors is revolutionizing ready-to-wear both on and off the course.
Honors was born from the frustration founders Amy Anderson, Huntley Rodes and Jenna Walter felt with the quality and style of the sport-specific clothes made for their favorite pastime. For years, the golf industry rule of thumb had been to take men's clothes, make them smaller, and produce them in stereotypically feminine colors, a practice called "shrinking and pinking."
"The clothes I wore to play as a teenager are still the same options available to women today and that was 20 years ago," says Walter, who played Division 1 college golf. "The sport has grown so much and yet the women's golf apparel market hasn't evolved at a similar rate or embraced a modern aesthetic."
Instead of giving in to pastels on the racks at pro shops or being satisfied wearing clothes designed for other sports on the course, the women combined their range of experience across marketing, sales and operations (Anderson and Rodes have a combined two decades of work experience at Warby Parker) and deep knowledge of the golf industry to address the issue.
"If you know a female golfer, chances are she will be quick to talk about the lack of fashionable and functional clothing options out there," Anderson says. "We wanted to change that conversation."
Enter Honors, whose debut collection offers 11 styles of coordinating tops and bottoms. Each piece is made from UPF 40 sweat-wicking fabrics with four-way stretch and rendered in a sophisticated palette of black, navy, cream and sand. Styles are designed to be worn together for a complete look, ready for the greens, or with the clothes in an existing wardrobe. And they're wrinkle-free, making them great for travel. The founders drew inspiration for their designs from images of stylish golfers from the 1960's and minimalist style icons like Katherine Hepburn, Carolyn Bessette Kennedy, and 90s-era Cindy Crawford, who was famously photographed in trousers playing golf.
The women also looked to modern pieces in their own closets to create an assortment that speaks to a new generation of female golfers who want performance clothes to be chic and comfortable.
Styles include high waisted pull-on shorts, skorts and pants ($55-$145) with clever details like a tee holder and ball cleaner. The tops allow for a great range of motion and include a polo, mock-neck zip pullover, and crewneck ($95-$165), and the fan-favorite blazer ($295), featuring cheeky embroidery on the inside pocket that reads "my other jacket is green," a reference to the traditional topper worn by Masters winners.
Honors is available exclusively at wearhonors.com.