Houston Stands in Solidarity with Israel
Burt Levine | 10/10/2023, 10:12 a.m.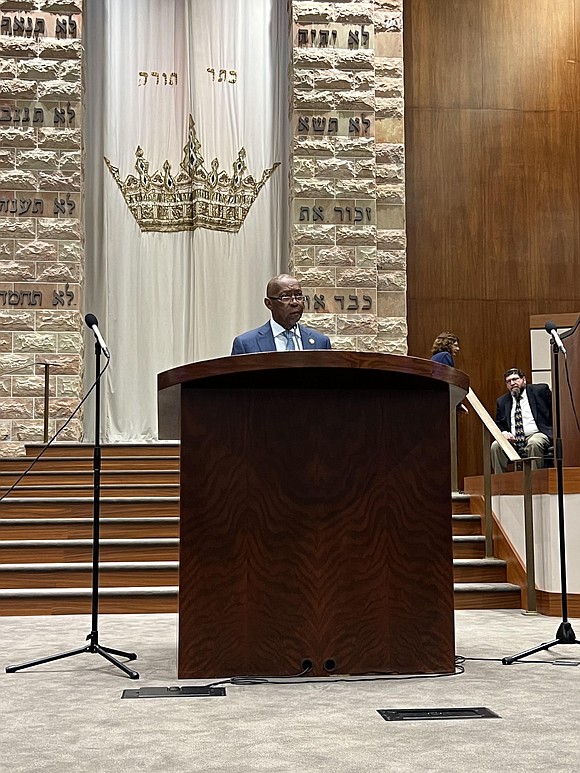 Mayor Sylvester Turner, U.S. Senator Ted Cruz, U.S. Reps. Sheila Jackson Lee, Sylvia Garcia, and Lizzie Fletcher, District Attorney Kim Ogg, County Commissioner Adrian Garcia, City Council Members Sallie Alcorn and Abbie Kamin, and NAACP President James Dixon brought Houston together on Monday, chanting, "Long Live Israel."
"On Saturday, we witnessed evil in its most exact form, killing thousands of innocent children, civilians, men, women, and the elderly. As human beings, we try to ask why, but there is no reason to justify what is happening to our brethren in Israel. Hate has caused this inhumane treatment of man against man. Israel has a right to live. Hate can never be tolerated; it must always be confronted and stopped," said Turner to more than 2,000 gathered in the Barg Sanctuary at Southwest Houston's Congregation Beth Yeshurun, the largest Conservative Synagogue in the United States.
Dozens of Americans have been among the dead, including up to 1,000 killed and 3,000 wounded, while the world watches with outrage. Americans are being held in captivity. In Houston, Jews, Christians, Muslims, and Hindus came together. The Hindu community contributed $10,000 to the Jewish Federation of Houston, where everyone joined arms to sing in harmony the Israeli National Anthem, "Hatikvah."
"Tonight, our City Hall is lit blue and white to show our city's support for Israel. In the most diverse city in this country, we stand with one another and with other cities across this country and around the world to say, 'Am Yisrael Chai,' which means 'Long Live Israel.' We stand with love to condemn hate. Houstonians and Israelis, African Americans and Jews have always come together as family," he said.
Senator Cruz said the barbarism and heinousness of seeing women kidnapped by terrorists and Christians beheaded live on television, music festivals marred by the massacre of untold masses, and more Jews killed at any one time than at any time since the Holocaust cannot stand or be accepted in the modern world. He said, "Never again should be the motto when facing the modern genocide of Jewish people here on this earth."
Congresswoman Jackson Lee said she is "heartbroken by the massive loss of life of Israelis in the surprise attack by Hamas, just following the Holiest of Holy Days on the Jewish calendar. We must never fail to stand with the people and the State of Israel. We will continue our unwavering support for Israel's right to independence."
Jackson Lee said she was there because America recognized Israel's independence within minutes of its declaration in 1948, and as an African American, she appreciates that in the history of America's abolition movement against slavery and in every step of civil rights marches, Jews were with African Americans, just as she stands with America's Jews.
Houston City Council at-large candidates Conchita Reyes and Marina Coryat were there to represent all the city of Houston, each said. Reyes has traveled to Israel in Latino exchange visits to support American military. She added that she was also there as a Christian and as the mother of a young U.S. Navy sailor deployed as a military policeman.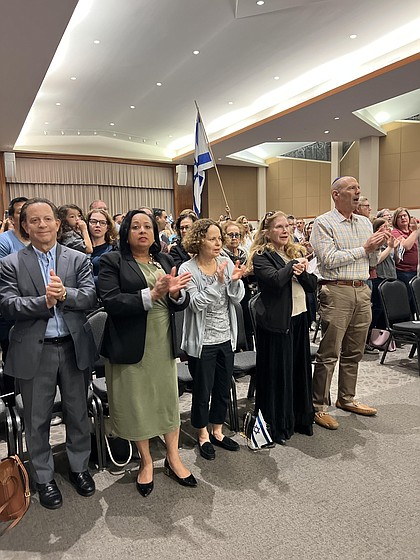 "My heart goes out to the people of Israel and those who have lost loved ones through these acts of violence. As a Christian woman, I will stand in prayer for the peace of Jerusalem," said Coryat.