Nixon Home Care Announces Masquerade Fundraiser To Support Caregivers In Need Of Adult Day Care Services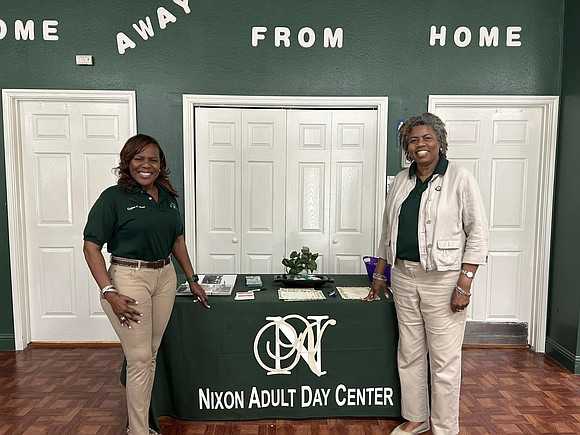 Nixon Home Care, a trusted provider of care services for senior citizens, veterans, and individuals with intellectual, mental, and developmental disabilities, is excited to announce a spectacular Masquerade Fundraiser event aimed at raising $50,000 for financial assistance to support primary caregivers in need of adult day care services.
Event Details:
Date: October 28th, 2023
Location: BienVenue Events 9630 Beltway 8, Unit C Humble, TX 77396
Time: 7:30pm – 11:00pm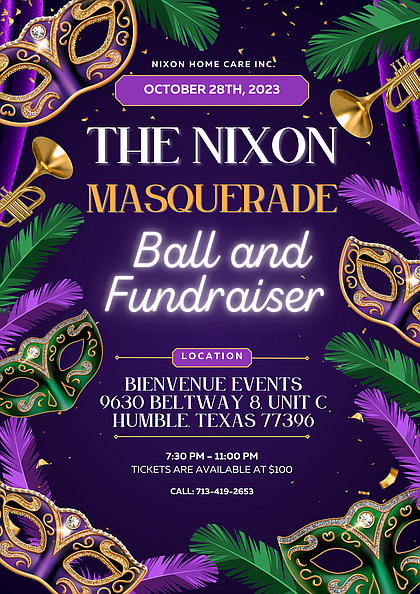 For over two decades, Nixon Home Care has been deeply committed to serving the most vulnerable members of our community. With a mission to enhance the lives of every person we serve, we have developed a comprehensive range of adult care and living settings designed to provide compassionate and considerate care choices for individuals with diverse needs. At Nixon Home Care, we firmly believe that compassion and dedication deserve the utmost recognition. Our service staff, tirelessly committed to caring for the elderly and those in need, exemplify these virtues every day. Their unwavering compassion, unwavering commitment, and tireless efforts have made a profound impact on the lives of our community's most vulnerable members. We are proud to honor their extraordinary work and salute their dedication to enhancing the quality of life for those they serve. It is their kindness, empathy, and unwavering support that truly define the heart and soul of our organization. We extend our heartfelt gratitude to our exceptional service staff for their remarkable contributions to the well-being and happiness of our community's cherished seniors and individuals with unique care needs.
About Nixon Home Care:
Nixon Home Care, Inc. has been a beacon of hope and support in Harris County, Texas, providing dedicated care services that cater to the unique needs of our community. Our philosophy is rooted in enhancing the quality of life for those we serve, and this has led us to create a continuum of care and living options that empower individuals to thrive in the environments they choose. We understand that caregivers often bear a significant responsibility when it comes to caring for their loved ones. Our upcoming Masquerade Fundraiser is an expression of our commitment to caregivers, whose selfless dedication often goes unrecognized.
The Masquerade Fundraiser:
This event promises an unforgettable evening filled with mystery and glamour, featuring live entertainment, exquisite cuisine, a silent auction, and a masquerade ball. Attendees are encouraged to don their finest masks and attire to immerse themselves in the enchanting ambiance.
Supporting Caregivers:
Funds raised during the Masquerade Fundraiser will be dedicated to providing financial assistance to primary caregivers in need of adult day care services. Your support will make a meaningful impact on the lives of those who dedicate themselves to the care of their loved ones.
Get Involved:
Purchase Tickets: Secure your place at this exclusive event by purchasing your tickets at [Event Ticketing Link].
Sponsorship Opportunities: For businesses and organizations looking to support this noble cause, sponsorship opportunities are available. Contact Debora Ann Nixon 713-419-2653
At Nixon Home Care, we believe that together, we can create positive change in the lives of caregivers and the individuals they care for. Join us on October 28th for a night of elegance, compassion, and community as we come together to make a difference. For more information about Nixon Home Care, visit our website: [Click Here].
To inquire about Zoom/Skype interviews with LaToya Hurley, email info@innovatingmarketinggroup.com or contact Innovating Marketing Group at 346-980-9062.