Houston Chamber Choir presents Byrds of a Feather concert with a salute to William Byrd
Set for Saturday, Nov. 11 at 7:30 p.m. at St. Thomas Episcopal Church in Meyerland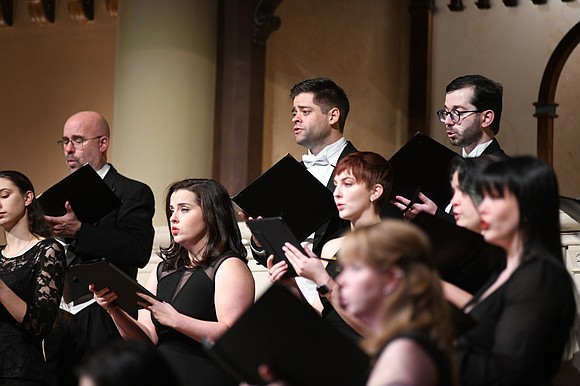 Marking the 400th anniversary of composer William Byrd's death, the Grammy® Award-winning Houston Chamber Choir, under the direction of founder and artistic director Robert Simpson, presents Byrds of a Feather, the third concert of the 2023-2024 season. In this step back in time, the Choir sings works by Byrd and his contemporaries Thomas Weelkes, Orlando Gibbons, and Thomas Morely. Concluding the concert, members of the University of Houston Concert Chorale join the Chamber Choir in a rare performance of the celebrated motet Spem in alium by Byrd's teacher, colleague, and friend, Thomas Tallis. This lush motet is seldom performed due to the demands of needing eight, five-voice choirs for a full 40 choral lines being performed simultaneously. Members of the UH Chorale and the Houston Chamber Choir will perform Spem with one singer on a part and stand encircling the audience for an experience that you will not want to miss.
The Houston Chamber Choir is made up of 24 professional musicians of diverse backgrounds who hail from some of the finest music programs in the country, including Cleveland Institute of Music, New England Conservatory in Boston, Moores School of Music at the University of Houston, College Conservatory of Music, University of Cincinnati and the UCLA Herb Alpert School of Music. Members of the Choir have performed professionally across the United States and internationally, singing in festivals, operas, concerts, church choirs and in musical theater.
Saturday, Nov. 11 at 7:30 p.m. CT
St. Thomas Episcopal Church, 4900 Jackwood St., Houston, TX 77096
Single tickets for the performance range from $10 for students to $45 for general admission. Seniors and military personnel receive a discount. Tickets can be purchased online at https://www.houstonchamberchoir.org/byrds-of-a-feather.
Parking and seating are first come, first served.
Check out our website at HoustonChamberChoir.org and follow us on Facebook and Instagram.
MORE: Parking and seating are first come, first served.