Bill Ford calls on striking union to 'stop this now'
10/16/2023, 3:56 p.m.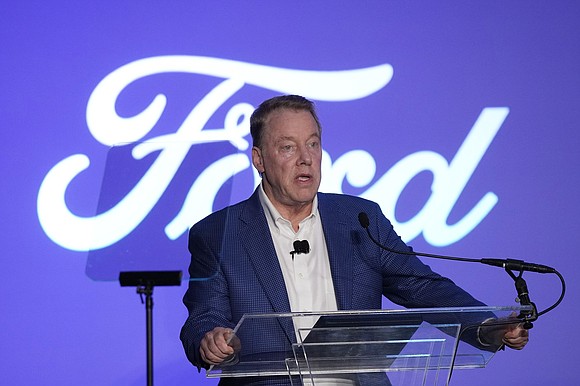 Originally Published: 16 OCT 23 12:05 ET
Updated: 16 OCT 23 16:47 ET
By Vanessa Yurkevich, CNN
(CNN) — Bill Ford, the executive chair of Ford Motor Company, made his first public comments since negotiations began with the United Auto Workers union and the Big Three automakers. He called on the UAW to "stop this now," and bring an end to talks.
Ford, who has been involved in every contract negotiation with the UAW since 1982 said Monday the company is at a crossroads with the UAW and a strong manufacturing base is critical to US national security and essential to the future of US auto manufacturing.
He said the company's financial ability to invest in the future is the "lifeblood of the company", and without it — factories like Rouge in Dearborn, Michigan, will close.
"Bill Ford knows exactly how to settle this strike. Instead of threatening to close the Rouge, he should call up [Ford President] Jim Farley, tell him to stop playing games and get a deal done, or we'll close the Rouge for him," said Shawn Fain, UAW president, in response to Ford's comments Monday.
"The UAW's leaders have called us the enemy in these negotiations. But I will never consider our employees as enemies," Bill Ford said Monday at Ford's Rogue Center. "This should not be Ford versus the UAW. It should be Ford and the UAW vs. Toyota and Honda, Tesla and all the Chinese companies that want to enter our home market. Toyota, Honda, Tesla and others are loving this strike because they know the longer it goes on, the better it is for them. They will win and all of us will lose," said Ford.
UAW President Shawn Fain disagreed with Ford's assessment of the competition.
"It's not the UAW and Ford against foreign automakers. It's autoworkers everywhere against corporate greed. If Ford wants to be the all-American auto company, they can pay all-American wages and benefits. Workers at Tesla, Toyota, Honda and others are not the enemy — they're the UAW members of the future," Fain said regarding Bill Ford's comments Monday.
On Wednesday, the UAW struck Ford's most profitable plant, Kentucky Truck Plant in Louisville, after the union said Ford failed to provide a new economic offer. Ford (F) says negotiations last week centered on battery plants and retirement security, and that the company had reached its financial offer limit.
"Toyota, Honda, Tesla and others are loving this strike because they know the longer it goes on, the better it is for them. They will win and all of us will lose," said Ford.
Ford said the company made a record offer to the UAW, and the strike against Kentucky Truck Plant harms tens of thousands of Americans including dealers, workers and suppliers. He stated any additional expanded strikes will cripple the supply chain.
"The supply base is very fragile and will start collapsing with an expanded strike," he said.
The overall economic cost of the strike has reached $7.7 billion during the first four weeks, according to new analysis published Monday by the Anderson Economic Group, which warned the strike is heading into a financial "danger zone" for many suppliers and producers.
"Without a settlement soon, a plausible restart with higher costs will likely lead to some permanent losses of production at the Big Three, and suppliers that will need financial assistance to return to operation," Patrick Anderson, founder of the firm, said in a statement on Monday.
Lost wages have totaled $359 million since the strike began, while losses to the companies total $3.455 billion. Supplier losses were $2.669 billion in the four weeks ending October 12, while dealers and consumers have taken a $1.209 billion hit, the analysis said.
"Most of these costs are being borne by workers and by small- and medium-sized businesses, not by the Detroit 3," said Anderson.
On Wednesday, the UAW struck Ford's biggest and most lucrative plant, the Kentucky Truck Plant, in Louisville. However, only one or two days of lost production at that plant are included in the latest analysis, according to AEG, but will be a big chunk of week five's cost.
A separate analysis last week by Wells Fargo puts Ford's weekly losses from the Kentucky Truck Plant closure at $150 million a week by itself. And Ford had said its annual revenue from the plant comes to $25 billion, or about $481 million a week, on average. That means this upcoming week will be even more detrimental, cost-wise.
"Another week, and adding the costs of any plausible settlement, will mean some production lines may not make it, and some suppliers will need financial assistance to continue operating," Anderson told CNN. "It will force GM and Ford, in particular, to choose between maintaining their hugely expensive investments in EV production and continuing to produce [gasoline-powered] models now being demanded by customers."
More than 16,600 Ford employees are on strike, resulting in 2,480 layoffs, the company noted. There are about 9,200 GM workers on strike and an additional 2,300 who have been laid off. At Stellantis, which builds vehicles under the Jeep, Ram, Dodge and Chrysler brands, there are 7,800 on strike and 1,400 who have been laid off.
On Friday Fain warned of future targeted strikes at any time.
"We are prepared at any time to call on more locals to stand up and walk out," Fain said in a livestream update on negotiations. He later added: "We changed the rules. Now there is only one rule — pony up."