U.S. Department of Energy Awards $1.5 Million to Texas Southern University to Advance Equity in Communities in the Gulf South of the United States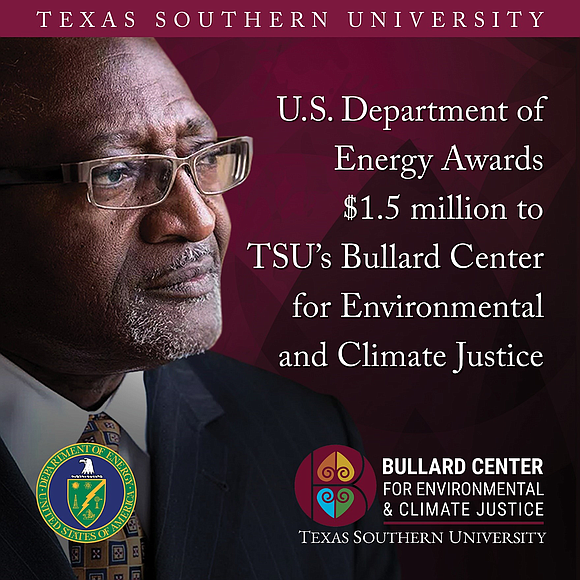 The U.S. Department of Energy's (DOE) Office of Economic Impact and Diversity (ED) has announced a cooperative agreement totaling approximately $1.5 million to Texas Southern University (TSU) Bullard Center for Environmental and Climate Justice for the Community Improvements for the Gulf South Project (Gulf South Project) to advance equity in communities located in the Gulf Coast of the United States.

The project will increase awareness about available DOE resources and funding opportunities and provide technical assistance training to communities to work with DOE awardees developing Community Benefit Plans (CBPs) and Community Benefit Agreements (CBAs). These essential equity tools provide a framework for awardees to address community equity and environmental justice considerations. CBPs contains four core policy priorities that address the socioeconomic needs of communities and CBAs provides a legal mechanism to ensure community concerns are heard and addressed. When equity considerations are successfully incorporated into project proposals and applications and executed upon, it ensures broadly shared prosperity in the clean energy transition.
The HBCU Consortia, comprised of the HBCU-CBO Gulf Coast Equity Consortium and HBCU Climate Change Consortium, will facilitate technical assistance and capacity support to communities. The Consortia is co-led by Dr. Robert D. Bullard and Dr. Beverly Wright of the Deep South Center for Environmental Justice.
"We are excited about this opportunity to scale up, accelerate and direct Justice40, BIL and IRA clean energy benefits and funds to our HBCUs and underserved communities where they are located," Dr. Bullard said.
Dr. Bullard, along with who along with Wright serve on the White House Environmental Justice Advisory Council (WHEJAC). This establishes a community-based ecosystem that fosters collaboration between communities and DOE awardees on the implementation of CBPs and participation in DOE projects while advancing the Biden-Harris Administration's equity goals.
"During the Energy Justice to the People Roadshow, we connected with many communities in the Gulf South. We heard from communities that they want to ensure that the benefits of the Biden-Harris Administration's historic investments in decarbonization flow to communities," said ED's Director Shalanda Baker. "This partnership with TSU will cultivate meaningful and lasting participation by community members to build the clean energy future they want to see. It will build much-needed capacity and help to bring community benefits to scale nationally. We couldn't be more thrilled to partner with an HBCU on this first-of-its-kind justice-related effort." 
TSU serves as the lead organization in the design and implementation of the Gulf South Project. As the lead academic institution in the HBCU Consortia, TSU oversees a network of Environmental Justice Centers that provide technical assistance and support to communities. These Environmental Justice Centers provide an established network of in-community stakeholders to assist in community benefit execution to assure strong implementation of the commitments negotiated by community into CBPs and CBAs.
"Texas Southern University is proud to advance this critically important work with the U.S. Department of Energy's support," said interim president Dr. Mary Evans Sias. "This is another example of the Bullard Center's continued leadership on issues of environmental and climate justice. We look forward to the tangible difference that will be made in underserved communities as a result of the Gulf South Project."
DOE is committed to advancing energy justice, increasing access to equal employment opportunities, creating jobs, and climate action.

To learn more, visit our ED website, sign up for ED newsletters and announcements and learn more about the Justice40 Initiative.