Janet Jackson to Headline World AIDS Day Concert in Houston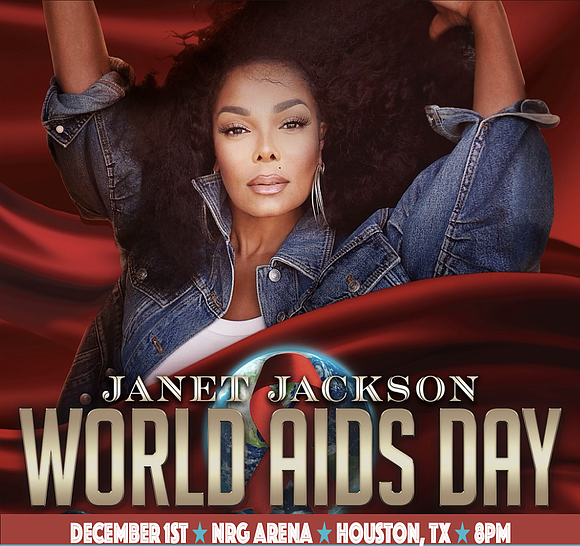 This holiday season, the residents of Houston are in for a remarkable treat as the iconic entertainer, Janet Jackson, graces the city to delight her fans and champion the cause of AIDS awareness.
The multi-Grammy award winner is set to make her way to Houston to headline the World AIDS Day Concert on Friday, December 1, 2023, at NRG Arena. Joining Jackson on stage will be the superstar choreographer, director, producer, and native Houstonian, Debbie Allen, who will serve as the keynote speaker. Blair Underwood will join these esteemed ladies as an AIDS Healthcare Foundation Lifetime Achievement Award honoree for his activist efforts.
In a letter she co-authored with Mathilde Krim, the founding chair of The Foundation for AIDS Research, Jackson emphasized the importance of sustaining the battle against HIV/AIDS, especially within communities of color. She stated, "Each year, 50,000 Americans become newly infected with HIV—the virus that causes AIDS—and more than 1.1 million people are living with the virus." She continued, "And while everyone is at risk and should know their status, data tell us that communities of color—particularly black women and young, black gay, bisexual, and other men who have sex with men—are disproportionately affected by the virus. If we're going to create an AIDS-free generation here at home, we need to start investing in resources that will curb the epidemic among these populations."
It is remarkable that Jackson will be gracing Houston on the 26th anniversary of her single "Together Again." This song, penned in honor of a friend who succumbed to AIDS, a young boy in England who lost his father, and others affected by or lost to the disease, was part of her sixth album, "The Velvet Rope." In December 2022, Jackson announced her tenth concert tour by the same name. The tour included a stop at the Cynthia Woods Mitchell Pavilion in June of this year and is now Jackson's highest-grossing tour, with earnings exceeding $50 million to date. She has repeatedly expressed gratitude for fans who still love what she does, and she is grateful to still do what she loves for over 40 years.
The overarching goal of World AIDS Day is to pay tribute to those battling or who have battled HIV/AIDS and their families. Additionally, it aims to encourage individuals to become advocates for their own health by getting tested and seeking treatment. "It is our only hope in finding a cure," stated Jackson in a World AIDS Day video.
World AIDS Day Houston has reported that Houston ranks 11th in the nation for new HIV transmissions. "Over 26% of those new transmissions will be diagnosed with AIDS, and there are 29,643 people living with HIV in the Greater Houston Area."
Jackson is part of a growing list of entertainers headlining the World AIDS Day Concert, which includes Jennifer Hudson, Christina Aguilera, Patti LaBelle, Gladys Knight, Diana Ross, and Mariah Carey. The AHF has also extended its Lifetime Achievement Award to a diverse group of advocates among them being Harry Belafonte, Debbie Allen, and the late Princess Diana.
Tickets for the Houston show have been in high demand since going on sale this past Monday. You can purchase your tickets, starting at $75, online at Ticketmaster.com for the World AIDS Day Concert in Houston on Friday, December 1, 2023, at 8:00 PM at NRG Arena.
For more information, visit JanetJackson.com.