From Pilgrimage to Trial: An American Tourist's Lesson in Israel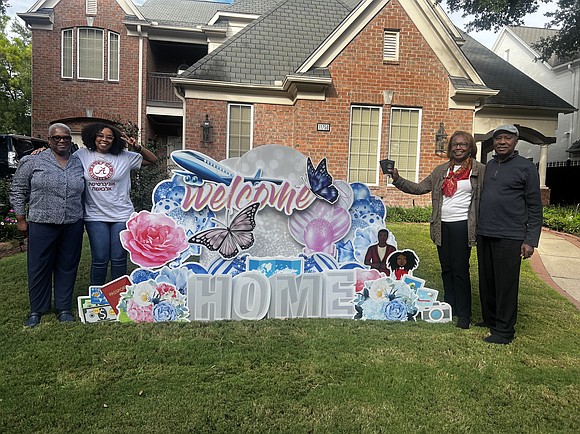 In the realm of faith, a common adage resonates: "You can't have a testimony without a test." Imani Daffin, an American tourist on a twelve-day journey to explore the life of Jesus in Israel, sought to deepen her faith and understanding of Jesus Christ. Her pilgrimage took her to sacred sites, from the banks of Galilee, where Jesus performed miracles and was baptized, to the town where his life began in a manager in Bethlehem. It was a journey filled with profound experiences, but it was a test of a different kind that transformed her spiritual quest into a harrowing trial.
"It was the most beautiful trip," Imani began as she relived her trip to Israel.
Her spiritual journey unfolded against the backdrop of Israel's timeless landscapes, but as the days passed, the unforeseen happened. The tranquility of her pilgrimage was shattered one fateful morning, as a deafening siren disrupted breakfast with her fellow travelers.
"It was a nationwide siren, so it wasn't like the hotel sirens. It was a lot louder and a lot bigger sound. That is when we all started getting apprehensive and trying to figure out what was going on," Imani said.
Uncertainty gripped the group as they scrambled to comprehend the situation. Despite their uneasiness, the group continued their tour of the Old City of Jerusalem and The Wailing Wall. However, it was amidst these ancient stone streets that the conflict began to intensify. The group was pushed into bomb shelters for their safety, and the sirens wailed once more. Imani's sense of security, nurtured by the presence of soldiers and surveillance throughout their trip, began to fade.
As the sounds of attacks filled the air, Imani documented the harrowing moments, capturing images of missiles diverted by an American device called the Patriot.
"It was very scary, but we still felt safe." Imani continued, "It was a very eerie day, and that's when I knew that we were going to most likely have some problems staying safe and going home."
"It felt literal like a holy experience in the most interesting way, which has been the hardest part to process. You come from this super high mountaintop experience to feeling just so low in one given moment and helpless."
While feeling helpless in the face of escalating conflict, they were not alone. Back in the United States, their families were working tirelessly to ensure their safe return. One source of support came from Congresswoman Sheila Jackson Lee, who personally reached out to ensure the group's well-being. For Imani, the Congresswoman's assistance was particularly meaningful, as they shared a sisterhood as members of Alpha Kappa Alpha Sorority, Inc.®
"Shout out to Congresswoman Sheila Jackson Lee for taking time to personally see that we were okay," Imani exclaimed.
Due to the unrest in Israel, Imani's journey was extended by two days, as all flights in and out of the country were grounded. The vulnerability she felt in the Tel Aviv airport, combined with the unfamiliarity of the airline, added to her anxiety. Nevertheless, she expressed immense gratitude to finally be on a plane bound for safety, narrowly departing just 30 minutes before the airport closed due to further bombings.
The journey home took two days, multiple flights, and various connections through parts of Turkey. Ultimately, Imani and her grandparents, who had joined her on the pilgrimage, found solace in the warm embrace of their waiting family and friends back in the United States. A "welcome home" sign in the yard and a celebratory Pappasitos Mexican fiesta awaited them.
Reflecting on her journey, Imani distinguishes between the vacation-like bliss of the early days and the profound test that followed. She realized that her experience was more than just a historical exploration; it was a trial of faith and trust. It forced her to confront the question of how much she had truly learned and how deeply she could apply her faith in God's plan, even in the most uncertain of circumstances.
"I could really feel God's grace and God's love through my family and so many different experiences. It was just one of those things where I had to learn that you have to trust in God through everything. I was able to apply that during those times of uncertainty."
Through the challenges and uncertainties of her journey, Imani came to understand the profound presence of God's grace and love in her life. Her pilgrimage, initially a quest for knowledge and spiritual growth, became a testament to the power of faith in the face of adversity.