Texans rookie quarterback inspired by former coach in defeat of the New Orleans Saints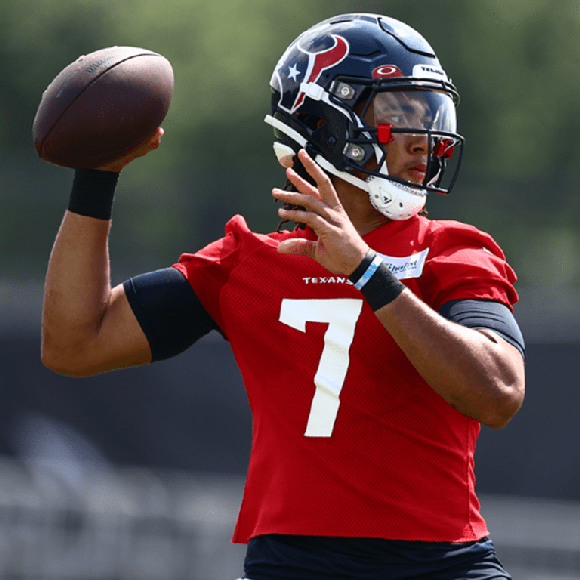 When Houston Texans quarterback C.J. Stroud talks about overcoming adversity on the football field, he always mentions the coaches who have helped him along his journey of becoming an NFL quarterback.
At Ohio State, head coach Ryan Day pushed Stroud consistently to get the best out of the former two-time Heisman Finalist. But before Stroud earned his Buckeyes jersey, he put in long days at Rancho Cucamonga under the guidance of high school football coach Mark Verti.
Stroud became the starting quarterback in 2018 for Rancho Cucamonga and, under the guidance of Verti, worked his way into a household name and four-star recruit by his senior year as he finished his high school campaign with 3,878 yards passing and 47 touchdowns.
He was highly recruited and burst onto the scene after his dynamic showing at the Elite 11 Finals, a competition camp for the best high school quarterbacks in the country. His ability to read and react while placing the ball in the right spots earned him MVP over future Heisman Trophy winner and the first overall selection in the 2023 NFL Draft (one spot ahead of Stroud) Bryce Young.
On Sunday, Verti witnessed how all the hard work and dedication from the long practice days and extensive film sessions paid off when Stroud helped the Texans defeat the New Orleans Saints 20-13.
"It's crazy," Verti said when asked about Stroud's development. "I remember him as an eighth grader in the spring and summer, and then he ended up at Ohio State. I haven't missed one throw of his and his development. You can see where his roots come back from when he was in high school. His brain game hasn't changed. His accuracy hasn't changed. He just gets better and better. It is nothing new, it is just amplified. At every level, it gets better and better. I get goosebumps it is so exciting."
Stroud had to revert to some of the football characteristic traits taught to him by Verti against the Saints to help him overcome adversity. During the Texans' second offensive possession of the game, Stroud threw his first interception of his NFL career after going 191 attempts without one to start his rookie season.
During that same play, Houston retained the ball after wide receiver Nico Collins made a heads-up play to punch the ball out of the defenders' hands. Six plays later, Stroud found tight end Dalton Shultz in the back of the end zone for a touchdown.
"Just knowing the next play is the best play," Stroud said about shaking off the interception. "It's not about what's happened before or the game before or whatever. It's about going 1-0 every play. And I can go all the way back to high school; my head coach from high school is sitting back there, so I may be thinking about him."
"But he'll tell you at times I'd get flustered, I'd get pissed because I want to be so great. And I work really hard on the little details, on straining two yards every play after the whistle is blown. Every little thing I've been taught to do, I want to do it for the Lord God and for my teammates. I get really down on myself sometimes. I'm probably my biggest critic."
Although Stroud evaluates himself on a larger scale than others, his coaches and teammates view him differently and have witnessed his leadership skills before he took his first snap in training camp, another characteristic trait that Verti has observed since high school.
"He does a good job reaching everybody," said Verti. "He makes sure everybody in practice gets the ball. He makes sure he talks to everybody in practice. He has always reached out to everybody on the team and not just guys who get the ball every time. That's just who he is."
After the bye week, Stroud will reunite with another old friend in Carolina when he prepares to battle the Panthers led by rookie quarterback Bryce Young.