Ahead of Crossroads' Annual Nourish Change Breakfast, National Nonprofit Releases New Report Showing Hunger Soaring in Texas
Food Hardship in Texas Increased 60% Between 2021 and 2023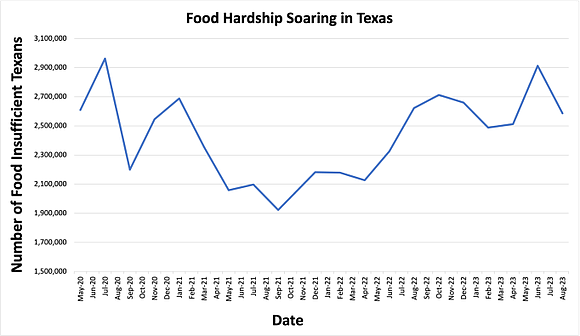 The number of Texans who didn't have enough to eat over a one-week period increased by 60 percent - from 1,657,518 to 2,667,937 - between August 2021 and August 2023, according to new data from the U.S. Census Bureau Household Pulse Survey analyzed by Hunger Free America. Previously, in 2021, food hardship in Texas declined, likely because of a large influx of federal food and cash aid.
Hunger Free America released this report ahead of the annual Nourish Change Breakfast, hosted by Crossroads Community Services, a local food redistribution organization based in Dallas. The breakfast will take place on Friday, October 27th.
According to separate USDA data, in 2020-2022, 15.3 percent of Texans lived in food insecure households, giving Texas the nation's second highest hunger rate, right below Arkansas at 16.6 percent. Mississippi is at 15.3 percent and Louisiana is at 15.2 percent.
Nationally, the number of Americans who didn't have enough to eat over a one-week period during the same time increased by 52 percent – from 18 million to 27 million.
These increases are due, in large part, to the fact that key parts of the federal safety net (including SNAP food benefits, universal school meals, and the expanded child tax credit cash payments) that were boosted during the pandemic were sharply curtailed, while the costs for food, housing, childcare, and other basic costs of living soared.
"No one should be shocked that when the government takes away food, as well as money to buy food, hunger increases," said Joel Berg, CEO of Hunger Free America. "The numbers make it abundantly clear that the federal government has a vital role to play in ensuring that Texans, and all Americans, have enough to eat. Allowing hunger to further increase is not only immoral, but will have a devastating effect on the economy."
Other findings in the report:
25 percent of Texans overall who were eligible for SNAP, 28 percent of working Texans who were eligible for SNAP, and a whopping 67 percent of older Texans who were eligible for SNAP failed to receive it, in Fiscal Year 2018, according to the USDA Food and Nutrition Service.
49 percent of pregnant women, infants, and children who were eligible for WIC benefits in Texas failed to receive them in 2020, according to the USDA Food and Nutrition Service.
47 percent of Texas children who received school lunches failed to receive school breakfasts in the 2021-2022 school year, according to the Food Research And Action Center (FRAC.)
The full report, "Texas Hunger Report 2023" is available on Hunger Free America's website:
https://hungerfreeamerica.org/en-us/research/texas-hunger-report-2023