Disney Animation Grants Fans' "Wish" with Early-Access Screening Nov. 18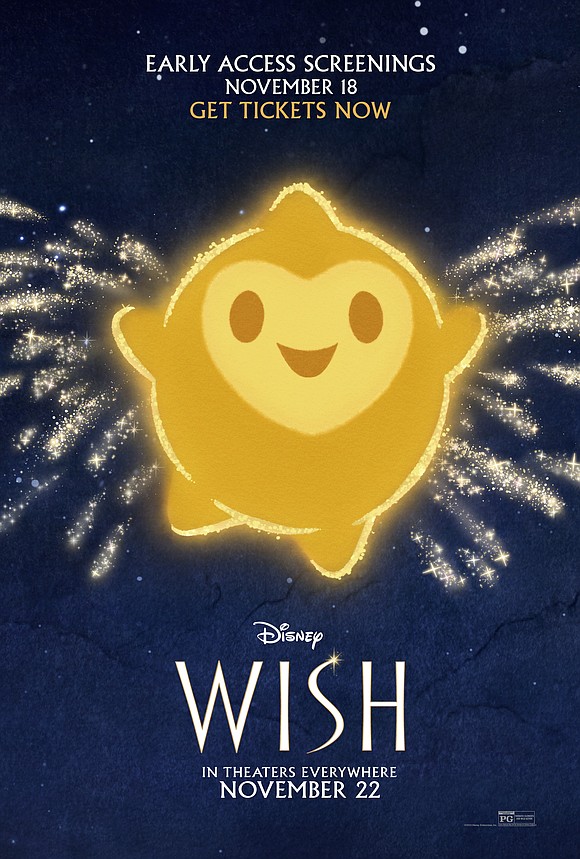 Walt Disney Animation Studios is granting wishes for fans Nov. 18 by offering a chance to see the epic musical comedy "Wish" ahead of its Nov. 22 U.S. theatrical opening. Tickets are now available to the special early access screenings at Fandango.com/DisneyWishEarlyAccess.
"Getting to make this movie has meant the world to all of us at Disney Animation, as it celebrates 100 years of storytelling," said Disney Animation's chief creative officer Jennifer Lee ("Frozen," "Frozen 2"), who is a writer and executive producer of the film. "We are so grateful to the fans who've shown up to the theaters time and again—to be able to give moviegoers a chance to experience it early is a wish come true for every person in our studio who helped bring 'Wish' to life."

"Wish" early access screenings will hit the big screen in about 750 theaters at 4 p.m. local time on Nov. 18.
"WISH" MUSIC ROLL-OUT
The announcement comes on the heels of the second song-reveal as part of WishWednesdays—Disney Animation and Disney Music Group's music roll-out that shares a new song each week from the seven original songs penned by Grammy®-nominated singer/songwriter Julia Michaels and Grammy®-winning producer/songwriter/musician Benjamin Rice. So far, "This Wish," performed by Ariana DeBose as Asha, and "This Is The Thanks I Get?!" performed by Chris Pine as the villainous King Magnifico, have been unveiled—check them out on SiriusXM's Disney Hits Channel 302, YouTube, Amazon Music, Spotify, Apple Music and all digital service providers.
The Wish Original Motion Picture Soundtrack from Walt Disney Records will be available November 17 on all streaming platforms. Fans can pre-order the CD here and the vinyl here.