Victor Wembanyama struggles with foul trouble in NBA debut as San Antonio Spurs lose to Dallas Mavericks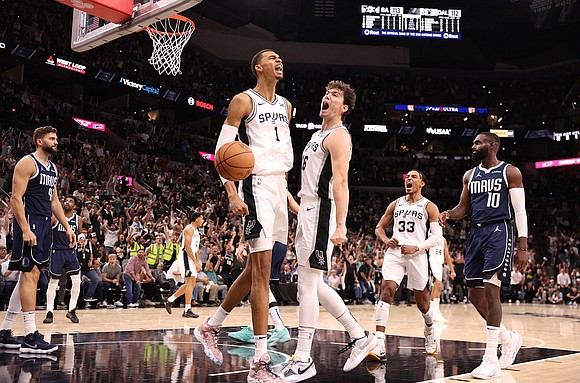 Originally Published: 26 OCT 23 05:26 ET
Updated: 26 OCT 23 07:01 ET
By Ben Morse, CNN
(CNN) — After months of anticipation, Victor Wembanyama finally made his official NBA debut on Wednesday night in the San Antonio Spurs' loss to the Dallas Mavericks.
The 19-year-old Frenchman finished the game with 15 points, five rebounds, two assists, two steals and one block as the Spurs lost 126-119.
The top pick in this year's draft, Wembanyama only played 23 minutes after struggling with foul trouble throughout. In the NBA, players foul out after picking up six personal fouls; Wembanyama picked up his fifth foul 26 seconds into the fourth quarter before returning with 7:12 remaining to complete the game.
"Lots of emotions for sure," Wembanyama said following the game, per ESPN, "but it would have been perfect with a win."
Wembanyama's debut was spoiled by the Mavericks though and in particular, Luka Dončić, who began the season with an impressive triple-double.
The Slovenian, who entered the season with question marks over his availability as he deals with a calf strain, posted 33 points, 14 rebounds and 10 assists in the victory.
In what was a tight encounter between the two Texas teams, Dončić proved the difference maker down the stretch, providing enough offense to see his side through.
The triple-double was the 57th of Dončić's career, moving him to 10th all-time in the category and fifth among active players.
Kyrie Irving contributed 22 points, Tim Hardaway Jr. and Grant Williams both scored 17 each, and rookie Dereck Lively II had 16 points and 10 rebounds off the bench.
Devin Vassell was the Spurs' top scorer with 23 points.
High praise
Despite the Spurs' defeat, there were still glimpses of what could come for San Antonio from Wembanyama.
Standing at seven foot four inches with an eight-foot wingspan, Wembanyama possesses a skillset which has been rarely seen before in the NBA; indeed, the Frenchman is spoken about in a similar bracket of prospect as LeBron James and Michael Jordan.
Indeed, Wembanyama received some high praise before the Spurs' season-opener from a former NBA great who possessed physical similar gifts to the Frenchman.
Yao Ming, who stands two inches taller than Wembanyama, spent his entire NBA career with the Houston Rockets and had a huge amount of success, being named an All-Star eight-times.
Yao told Reuters that he's never seen a basketball player quite like Wembanyama.
"I never see a big guy like, you know, (who) can do such a thing like he does," said Yao.
Wembanyama is predicted to be a force on defense in his rookie campaign, something he has showed already in preseason and in his debut on Wednesday with his ability to disrupt the opponent with his long reach, including a block of Irving in the first quarter.
Although there were plenty of positives in Wembanyama's debut, there was still room for growth, as evidenced by the foul trouble the Frenchman found himself in.
The Spurs' legendary head coach Gregg Popovich said the foul trouble is a tough situation for a player to find themselves, not least for a rookie.
"One of the toughest things for a player is to get into foul trouble," Popovich said, per ESPN. "You never get into a rhythm, you're in and out of the game and that sort of thing. I thought his maturity showed, even at a young age where he came in with the last seven minutes and just played.
"We ran some stuff for him, he executed where a lot of guys would have been totally out of it by then because, as you said, were in foul trouble and didn't get the rhythm. I thought he had a wonderful outing considering that."
Returning
As Wembanyama made his full NBA debut, another generational talent also made headlines on Wednesday.
Zion Williamson, who missed the second half of last season with a hamstring injury, scored 23 points in 32 minutes to help the New Orleans Pelicans beat the Memphis Grizzlies 111-104.
Williamson's three seasons in the NBA have been blighted by injury, but starting his first game since January 2, the 23-year-old showed some of the traits he's become known for in the win over the Grizzlies, including an explosive dunk in the second half.
And Williamson said the dunk helped get his offensive game going after the halftime interval.
"It helped. For me, I think it's going to be a few games, just getting that in-game flow back," Williamson told reporters after the victory. "No matter how much I train, workout, play pickup, it's nothing like a real NBA game."