Allies In Hope Announce The Inaugural Hope For Houston Ball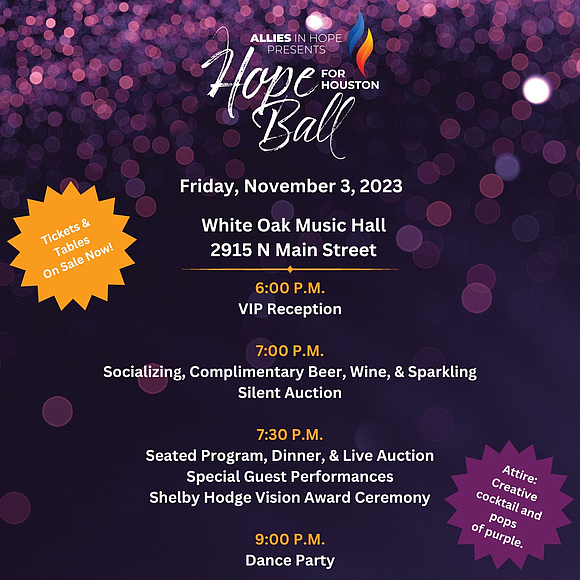 Allies in Hope, formerly known as AIDS Foundation Houston (AFH), a leading nonprofit dedicated to ending the HIV epidemic in the greater Houston area, is excited to announce a new fall fundraising event you won't want to miss! Mark your calendars for our inaugural Hope for Houston Ball, taking place on Friday, November 3, 2023, at the iconic White Oak Music Hall.
This unforgettable evening is designed to bring our community together for a meaningful cause. Join us for an inspiring night of philanthropy, as we aim to raise $300,000 to support the Allies in Hope mission and innovative programs and services including, but not limited to HIV/STI testing and treatment including at-home testing, Stone Soup Food Pantry, Camp Hope summer camp for children living with HIV, supportive housing programs, incarcerated/recently released outreach and services, and much more.
The Hope for Houston Ball will be an evening not to be forgotten! Dress to impress in your snazziest 'creative' cocktail attire and add a pop of purple to celebrate our new Allies in Hope branding. Attendees can expect a delicious dinner, mesmerizing entertainment, dancing, a live and silent auction, a special presentation honoring prominent community advocates and Bread of Life, Inc. founders, Dr. Rudy Rasmus and Pastor Juanita Rasmus, and more.
Here's a glimpse of what you can look forward to at the Hope for Houston Ball:
• 6:00 pm: VIP Reception
• 7:00 pm: Bubbles & Brews
• 7:30 pm: Dinner & Program
• 9:00 – 10:00 pm: Dance Party
We are honored to have the following prominent Houstonians leading the event:
Honorary Chair: Shelby Hodge, Social and Lifestyle Editor for PaperCity Magazine, who has been the source for news of Houston's nonprofit and social arenas since 1991. She has played a pivotal role in shining a light on various philanthropic causes, including her steadfast support for Allies in Hope, thus making a significant impact on the city's social landscape.
Co-chairs: Dr. Kadria Derrick, a dedicated board-certified Anesthesiologist, advocates for community health and wellness outreach programs, both locally and internationally. Dr. Derrick is also a member of the Greater Pearland Chapter of The Links, Inc. LaRence Snowden, Board Chair of the Houston Housing Authority, provides a wealth of expertise in managing partner relationships and is a dedicated advocate for underserved communities, addressing critical issues such as housing affordability, homelessness, and youth mentoring. LaRence is also on the Board of Directors for Allies in Hope.
Host Committee: Lisa Anderson-Williams, Kalinda Campbell, Corlis Henderson, Nettie Jones, Craig S. Miles, Darren Palmer, Kyle T. Pierce & Dr. Daryl Shorter, and Jennifer & Craig Simons.
Emcee: Ernie Manouse, eleven-time Emmy Award winner and current host and executive producer of Houston Public Media's daily radio program/podcast Town Square with Ernie Manouse, will be the Ball emcee after a longstanding history as our World AIDS Day Luncheon emcee.
Allies in Hope is deeply committed to making a positive impact on the Houston community. The Hope for Houston Ball is not only an opportunity to raise crucial funds for the organization but also, to formally re-introduce Allies in Hope after an organizational rebranding initiative. For sponsorship information, please visit: https://www.aihhouston.org/hopeforhoustonball.
About Allies in Hope
Allies in Hope, formerly AIDS Foundation Houston, founded in 1982, is a 501(c)(3) nonprofit corporation that was the first AIDS Service Organization in Texas and remains a national leader in HIV/STD programming. With the vision of creating a community where HIV is stigma-free and rare, and people have equitable access to care, Allies in Hope works towards the mission of ending the HIV epidemic in the greater Houston area. Focusing on HIV prevention, housing and supportive services to persons living with HIV, Allies in Hope provides care to almost 6,000 adults and youth affected by HIV and educates more than 75,000 people throughout Texas. For more information, please visit
www.aihhouston.org.