Disney's The Little Mermaid – Arriving on Blu-ray and DVD Sept. 19!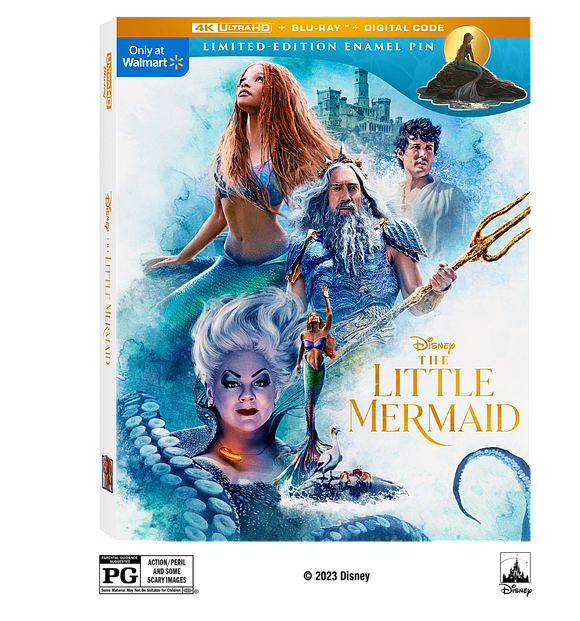 FILM SYNOPSIS
The Little Mermaid is visionary filmmaker Rob Marshall's live-action reimagining of Disney's beloved animated musical classic, the story of Ariel, a beautiful and spirited young mermaid with a thirst for adventure. The youngest of King Triton's daughters and the most defiant, Ariel longs to find out more about the world beyond the sea and, while visiting the surface, falls for the dashing Prince Eric. While mermaids are forbidden to interact with humans, Ariel must follow her heart. She makes a deal with the evil sea witch, Ursula, which gives her a chance to experience life on land but ultimately places her life – and her father's crown – in jeopardy.
VOICE CAST AND CREW
Halle Bailey as Ariel
Jonah Hauer-King as Eric
Melissa McCarthy as Ursula
Javier Bardem as King Triton
Noma Dumezweni as The Queen
Art Malik as Sir Grimsby
Daveed Digs as Sebastian (voice)
Jacob Tremblay as Flounder (voice)
Awkwafina as Scuttle (voice)
Directed by Rob Marshall with a screenplay by David Magee. Produced by Lin-Manuel Miranda, Marc Platt, John DeLuca and Rob Marshall.
BONUS FEATURES*
Sing Along Version – Sing along with your favorite songs while watching the movie with on-screen lyrics.
Hotter Under The Water – Discover how director Rob Marshall and his team brought the story of The Little Mermaid to life with this documentary in five chapters:
A Tale Of The Bottomless Blue - Join Rob Marshall on the set of one of the most ambitious and challenging films he's ever directed.
I Know Something's Starting Right Now - Join cast members Halle Bailey, Melissa McCarthy, Jonah Hauer-King and more and learn how they were cast in the film and what it was like to bring director Rob Marshall's vision to life.
Down Where It's Wetter - Dip your toes into the virtual ocean and learn about how the breathtaking underwater world was created with visual effects, imagination and a lot of talented artists.
Explore That Shore Up Above - From Prince Eric's castle to the beach, explore the above-the-sea locations and the elaborate production design behind them.
Do What The Music Say - Discover how legendary composer Alan Menken teamed up with Lin-Manuel Miranda to write new songs to accompany the original classics.
Song Breakdowns
Wild Unchartered Waters - Prince Eric, played by Jonah Hauer-King, gets his own song, written by Alan Menken and Lin-Manuel Miranda. Go behind the song, from the writing to the recording, to the filming on a practical ship.
Under the Sea - Get a first-hand look at how professional dancers helped bring director Rob Marshall's vision to life as they stood in for the various animated sea creatures that sing and dance in this showstopping number.
Kiss The Girl - Float along and get a frog's-eye view of the beautiful set built to film the live-action version of this classic song.
Poor Unfortunate Souls - Join Melissa McCarthy (Ursula) as she takes us on the journey of making her character's signature song.
Featurettes
The Scuttlebutt On Sidekicks – Dive in and meet Sebastian, Flounder and Scuttle, who not only have their own song, "The Scuttlebutt," but also fresh looks as they work hard to make sure Ariel and Eric kiss before Ursula's deadline.
Passing The Dinglehopper – Ariel met Ariel when Halle Bailey worked with Jodi Benson — the voice of Ariel in the original animated movie — who appears in a clever cameo in the live-action film.
Bloopers - Laugh along with the cast as they have the time of their lives making The Little Mermaid.
Run Time: Approx. 135 minutes
Rating: PG for action/peril and some scary images.
SOCIAL MEDIA
Twitter: @LittleMermaid
Facebook: @DisneyTheLittleMermaid
Instagram: @disneylittlemermaid
Hashtag: #TheLittleMermaid