WWII Era T-6 Texan "The Pilot Maker" Planes Visiting the Lone Star Flight Museum
Saturday, Sept. 16 from 10 a.m. to 3 p.m. CT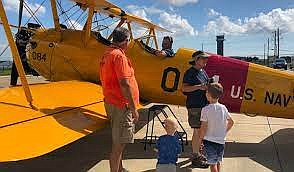 The Lone Star Flight Museum is hosting a T-6 Fly In event this Saturday, Sept. 16 from 10 a.m. to 3 p.m. CT. This event commemorates the 85th Anniversary of the iconic T-6 Texan and celebrates the USAF Birthday! Join us for a day filled with aviation history and excitement including:
Six Visiting T-6 Texans: Get up close and personal with these legendary aircraft on display.
Q&A with T-6 Pilots: Have your questions answered by experienced T-6 pilots and our LSFM T-6 Captain.
T-6 Hangar Talk: Dive deeper into the history and significance of the T-6 Texan.
Curator Talk: Explore the rich heritage of the USAF with an exhibit of Airforce Artifacts in celebration of the USAF Birthday.
Lieutenant General Doug Owens (USAF, ret.), president and chief executive officer of The Lone Star Flight Museum, is available for interviews before and during the event to provide additional insights and perspectives.
The North American T-6 Texan was known as "the pilot maker" because of its important role in preparing pilots for combat. The T-6 was the classroom for most of the Allied pilots who flew in World War II. The T-6 trained several hundred thousand pilots from the United States and many other countries for over three decades. Learn more about the North American T-6 Texan planes here: https://lonestarflight.org/fly/north-american-t-6-texan/.
Member and guests will not want to miss this unique opportunity to engage with aviation enthusiasts, learn about the T-6 Texan's incredible journey, and pay tribute to the United States Air Force. FREE for museum members!
Event Details:
Date: Saturday, September 16, 2023
Time: 10:00 a.m. - 3:00 p.m.
Location: Lone Star Flight Museum
Visit LONESTARFLIGHT.ORG or FACEBOOK and INSTAGRAM pages for the latest program and event information, or call 346-708-2517.