J.D. Silva & Associates Expands with Construction of New 42,000 sq ft Lawplex Building in Pearland
Style Magazine Newswire | 9/18/2023, 3:14 p.m. | Updated on 9/18/2023, 3:13 p.m.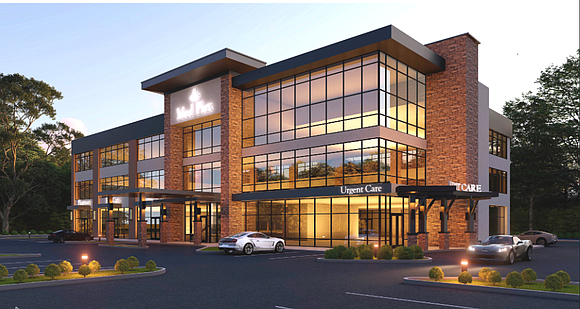 J.D. Silva & Associates, a distinguished Texas-based veteran and minority-owned personal injury and criminal defense law firm, is excited to announce a significant expansion of their practice with the construction of a new cutting-edge "Lawplex" building in Pearland, Texas.
The Lawplex, spanning an impressive 42,400 square feet, will be situated on a 1.91-acre parcel within the heart of Pearland on South Freeway. The sleek three-story glass structure is designed as a forward-thinking real estate solution tailored for the evolving landscape of the U.S. legal industry.

The J.D. Silva & Associates Lawplex will feature luxurious, contemporary office spaces, meticulously designed and executed by Houston-based Z-Co Development Corporation. The development promises a state-of-the-art experience, and a landmark in design and construction, exemplifying JD Silva's dedication to serving the city of Pearland with the finest legal team and advisors housed under one legal hub. Anticipated to be completed in approximately eighteen months, the endeavor represents a significant milestone for the rapidly growing law firm.
"We didn't want to just move to a larger office, we wanted to create an unrivaled comprehensive legal hub," said Johnathan D. Silva, Founder and Managing Partner of J.D. Silva & Associates. "This beautiful new facility will have the ability to accommodate the firm's growth, while contributing to the economic development of Pearland with an elegant and highly efficient office design, and superior access and visibility, in a prime location of a high-growth area."
The strategic expansion is part of the firm's commitment to providing exceptional legal services and advocacy to meet the growing demands of its clients in the Greater Houston Area. Established in 2018 by Johnathan Silva, a US Navy veteran, J.D. Silva & Associates has earned a reputation as a trusted law firm dedicated to personal injury and criminal defense. With the inclusion of Managing Partner Sharrard Owens in 2020, the firm proudly stands as a minority and black-owned company, committed to serving clients and the community with diversity and inclusivity.

J.D. Silva & Associates is distinguished by a team of multilingual lawyers including Vietnamese personal injury attorney Lena Nguyen, and Spanish-speaking attorneys Jonathan D. Silva and Armando J. Córdova, ensuring client relationships are built on mutual trust and a clear understanding of each client's needs and goals.

The attorneys at J.D. Silva & Associates bring a wealth of diverse experiences, educational backgrounds, and formidable legal acumen to the community, collectively devoted to championing the rights of individuals and families. The Pearland-based firm also has a strong philanthropic commitment to the community, currently supporting the educational needs of local teachers and students with free lunches, back to school survival kits for teachers, and a full classroom upgrade for a teacher in need this school year!

With the expansion of the new Lawplex and a demonstrated a history of achievement, J.D. Silva & Associates is well-positioned to further extend its legal proficiency and tailored support to the Houston community.
For more information, visit https://jdsilvalaw.com.