Judge is skeptical of Trump-era DOJ official Jeffrey Clark's bid to move Georgia election charges to federal court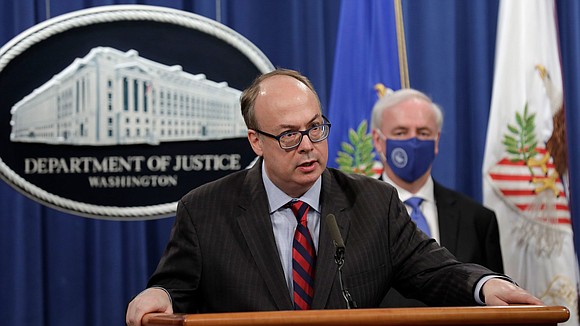 Originally Published: 18 SEP 23 05:04 ET
Updated: 18 SEP 23 16:47 ET
By Marshall Cohen, Katelyn Polantz and Devan Cole, CNN
Atlanta (CNN) — A federal judge was skeptical Monday of former Trump-era Justice Department official Jeffrey Clark's efforts to move his Georgia election subversion case to federal court.
The case stems from Clark's efforts to use his senior role at the Justice Department to help former President Donald Trump overturn the results of the 2020 presidential election despite the objections of his bosses.
Clark wasn't present at the hearing, an absence that became especially notable after US District Judge Steve Jones said he would not accept a sworn statement from Clark as evidence in the case.
The hearing ended after about three hours with no ruling from the judge, who seemed visibly frustrated and annoyed at times. At one point, his probing questions directed at one of Clark's attorneys led Trump attorney Steve Sadow, who was in the courtroom, to whisper, "This is not good."
Jones said he would make a decision on the matter as soon as he could but didn't give a timeframe for his ruling. Earlier this month, Jones rejected a similar request to transfer the case from another co-defendant: Trump White House chief of staff Mark Meadows.
Clark and some other defendants want to move their cases to federal court and say they were acting on behalf of the federal government after the election, thus they should be able to have their state charges tried before a federal judge. They could also potentially have somewhat friendlier trial settings or get the charges dropped entirely by invoking immunity protections afforded to federal officials.
At Monday's hearing, Clark attorney Harry MacDougald argued that "not even an iota of (Clark's) actions would be possible if he wasn't a federal official." This included attending an Oval Office meeting and a classified intelligence briefing about election security, as well as high-level discussions with Justice Department officials.
And even if his official job description didn't include most election litigation, those matters were in his lane because "the president put it in his lane," MacDougald said, referring to Trump seeking out Clark in late 2020 to discuss the election.
Clark's bid differs from Meadows' and is a tossup, according to several former Justice Department officials, given that he was advocating within the Justice Department for the agency to take action to undermine public trust in the election. However, Clark's superiors in the department opposed him, and his direct communication with Trump after the election wasn't authorized as part of his job.
Trump will also likely seek to move his case to federal court, but he hasn't filed any motions yet.
Post-election turmoil inside DOJ
Clark is charged with violating Georgia's racketeering law, known as RICO, and attempting to make false statements. He has pleaded not guilty.
Fulton County District Attorney Fani Willis, a Democrat, opposes Clark's bid to move his case. Attorneys from her office argued during Monday's hearing that even if Trump told Clark to get involved in 2020 election matters, his actions still would not have been within the scope of his federal duties.
After Trump lost the 2020 election, Clark started embracing far-fetched conspiracy theories about an international scheme to rig voting machines against Republicans, according to two congressional reports and past CNN reporting. He also violated Justice Department policy by speaking directly with Trump on several occasions.
As part of these conversations, Trump considered installing Clark as acting attorney general so he could send a letter to the state officials falsely claiming the Justice Department found widespread "irregularities" in the 2020 election.
Trump backed away from the plan after top Justice Department officials threatened to resign in protest. These actions are part of Trump's federal election subversion charges, in which Clark is an unindicted co-conspirator. Trump has pleaded not guilty in both cases.
During Monday's hearing, MacDougald said the letter "never left the office" and argued that Clark was not going rogue when he drafted it because, he said, it was part of Clark's job.
"You cannot get into the Oval Office" for a meeting with the president and top Justice Department officials unless you are acting in connection with a federal position, MacDougald said.
Jones asked some probing questions during the hearing, at one point challenging MacDougald about the fact that his DOJ bosses told him that his 2020 election fraud claims weren't true, but he still included the claims in his draft letter to Georgia officials.
MacDougald argued at one point that the draft letter Clark wanted to have sent to officials in key states – including Georgia – was akin to a dissenting opinion inside any federal agency, including a court's chambers.
Compared to his DOJ colleagues, Clark "had a different opinion on the weight and sufficiency of the evidence" of fraud, he said.
He told the judge if this case against Clark isn't moved to federal court, it could allow states to issue felony arrest warrants even for people who work for the judge and disagree with him.
"You guys hear that?" Jones joked in response, pointing to his clerks inside the courtroom.
MacDougald ended his arguments Monday with a harsher position toward Trump – digging into the position that Clark couldn't have acted outside of his office at the department because the then-president authorized Clark's actions after the election toward Georgia.
The DOJ "is not an independent fourth branch of government," MacDougald said.
But prosecutors pushed back. "There's no federal authority here to protect," Donald Wakeford argued for the state of Georgia.
"There has to be some basis in reality" that Clark's draft letter to Georgia officials about the state's presidential election was part of his job, Wakeford said, adding that Clark was told by his superiors what he was saying wasn't true, wasn't part of his job and wasn't part of anyone's job at DOJ.
Trump DOJ official testifies for Willis
Former Justice Department official Jody Hunt testified at the hearing and bolstered Willis' case by saying that the person in Clark's role wouldn't have been involved in investigating election fraud. Hunt was head of the DOJ's Civil Division under Trump before Clark took over the role in an acting capacity in 2020.
"In my experience it is not the role of the Civil Division to engage in any affirmative matters related to elections or election irregularities," Hunt testified.
Matters related to election fraud would be handled by the Criminal Division or the Civil Rights Division, Hunt said. This undercuts Clark's argument that he was doing his job as acting head of the Civil Division by getting involved in the 2020 election.
"It would not fall within the responsibility" of the Civil Division to handle election-related enforcement matters, Hunt said.
Hunt was an influential figure in the Trump administration and was chief of staff to then- Attorney General Jeff Sessions. He later represented a key January 6, 2021, witness who provided damning testimony against Trump.
Former attorney general backs Clark
At his own hearing last month, Meadows took the stand to testify in an unexpected, high-risk attempt to expand the court's view of his role as chief of staff.
Clark's attorney didn't respond to a request for comment, though Clark submitted a sworn statement to the court about his service at the Justice Department, which the judge later rejected.
In the statement, Clark wrote he never participated in campaign events for Trump's reelection, never acted in his personal capacity and never took "knowingly false positions" during his time at the Justice Department.
Former Attorney General Ed Meese, who served in the Reagan administration, also sent a sworn statement to the court in advance of the hearing, arguing on Clark's behalf, "The prosecution of the President and an [assistant Attorney General] is a major affront to federal supremacy never before seen in the history of our country," according to a court filing Sunday.
"If the premise of this prosecution were to be accepted, then state law enforcement officials could arrest local U.S. Attorneys and their Assistants while they were deliberating over whether and/or how to approach a possible prosecution of state or local officials," Meese added.
But Jones said on Monday that he will block Meese's affidavit from being submitted.
"With all due respect to the former attorney general," the judge said, some of Meese's submission "gives opinions of things" and thus won't be included in the official record, and won't be considered when he makes his ruling in the removal matter.
This is one of two federal hearings this week about moving the Georgia case out of state court. Three "fake electors" facing charges have a hearing set for Wednesday on the same question.
This story has been updated with additional developments.