Suspect arrested in the ambush killing of a newly engaged Los Angeles deputy. This is what the sheriff wants the public to know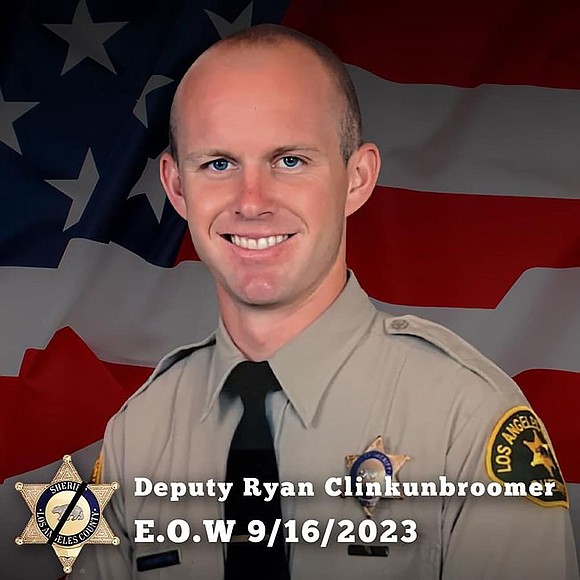 Originally Published: 18 SEP 23 04:05 ET
Updated: 18 SEP 23 17:31 ET
By Nouran Salahieh and Holly Yan, CNN
(CNN) — After an hourslong standoff, a 29-year-old man suspected of gunning down a Los Angeles County sheriff's deputy was arrested Monday. But the reason behind the killing remains a mystery.
Kevin Cataneo Salazar is accused of ambushing and shooting Deputy Ryan Clinkunbroomer, 30, as the deputy waited at a red light in his patrol car Saturday, Los Angeles Sheriff Robert Luna said.
Cataneo Salazar surrendered after deputies deployed chemical agents at his home Monday.
The sheriff has described the deputy's killer as a "coward" who took Clinkunbroomer's life "while he's sitting at a red light, waiting to serve our community."
Clinkunbroomer, who got engaged just four days before he was gunned down, was found mortally wounded by a civilian around 6 p.m. Saturday near his sheriff's station in Palmdale, about 60 miles north of Los Angeles.
"He was murdered – ambushed – by a coward," Luna said.
"Our deputy left this station in uniform to serve. And he was shot and killed. Why? We don't know yet. But we intend to find out."
Luna thanked the public for valuable information that led to Cataneo Salazar's capture and praised his deputies for their hard work despite immense grief.
"I ask all of you … to continue to support our deputies here at the Palmdale station, Lancaster station right next door, and really all of law enforcement," Luna said outside the slain deputy's station.
"Our officers, our deputies go out and serve this community every day, putting their lives on the line. So we have a lot to be thankful for – that we have men and women who volunteered to do this, and families who kiss them goodbye and just pray that they come back home. And in this case, Ryan's family will never see him again."
More than a dozen other families of law enforcement officers are grieving the loss of their loved ones in ambush attacks this year.
There have been 83 ambush-style attacks on law enforcement in 2023, with 101 officers shot – 15 fatally, according to a report this month from the Fraternal Order of Police.
Saturday's killing came three years after two Los Angeles deputies were shot ambush-style at a train station while sitting in their patrol vehicle.
Clinkunbroomer was a beloved member of the sheriff's department and "was just starting his life," Luna said.
The deputy's father and grandfather both served in the sheriff's department, Luna said.
"Service was running through his veins. He embodied the values of bravery, selflessness and was committed to justice," Luna said in a Facebook post. "Our deputy was a devoted family member and a cherished community member."
The sheriff read a statement on behalf of Clinkunbroomer's family members, who asked for privacy as they grieve.
"Our son Ryan was a dedicated, hardworking deputy sheriff who enjoyed working here at the Palmdale station," the statement read in part.
"Ryan was recently engaged to the love of his life. As our firstborn son, Ryan will be greatly missed by his family, friends and the sheriff's department as a whole."
Even though a suspect is in custody, Luna said the investigation continues. He urged the public to provide any photos, video or information about the fatal ambush.