Texas Southern University Places Third at Moguls in the Making Entrepreneurial Pitch Competition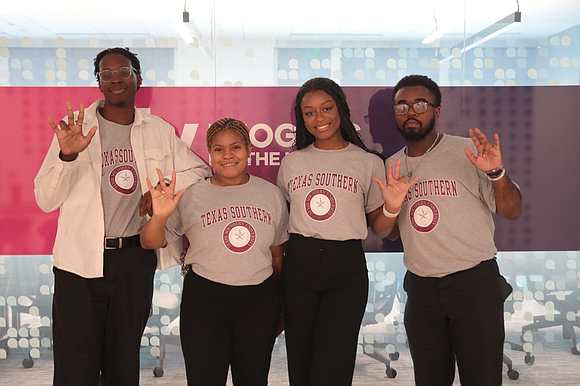 The team from Texas Southern University (TSU) earned third place in the 5th annual Moguls in the Making entrepreneurial pitch competition, where 60 students from Historically Black Colleges and Universities (HBCUs) developed innovative and impactful solutions to address economic mobility challenges using vital business skills.
The four-day competition was held in Charlotte. It was hosted by Ally Financial (NYSE: ALLY) in collaboration with the Thurgood Marshall College Fund (TMCF), the largest organization exclusively representing the Black College community, with a special appearance by multi-platinum artist, entrepreneur and philanthropist Big Sean.
"Moguls in the Making is an investment Ally makes to provide career-launching business experience," said Ally Financial CEO Jeffrey J. Brown. "We're intentional about how we show up as an ally, focusing on efforts that support economic mobility and inspire social change. Programs like this provide access and opportunities for HBCU students to learn core business and entrepreneurial skills and help build and early talent pipeline with bright, passionate and creative individuals who will be our future leaders."
The 60 students – 15 teams with four students each – toured Charlotte, one of Ally's hometown markets, to learn about the city's rich heritage and community challenges. They then were asked to develop a concept to support economic mobility in Charlotte and create a business plan to put those ideas into action. Each team presented their concept to a panel of judges, who awarded prizes to the top three teams based on the pitch.
TSU's concept, Queensville, is a community-centric and employee "owned" grocery store dedicated to promoting economic mobility for residents living without easy access to essential items. Queensville invests in its community by providing jobs and offers employees the option to share company profits through the wage-to-profit (W2P) program. Upon completion of financial literacy training, education and support, Queensville aims to help employees change their economic status over time. The TSU team consisted of:
Quentin Bellard, sophomore computer science student from Katy, Texas
Kendell Jenkins, sophomore English education student from Houston, Texas
Kamaria Marshall, sophomore political science, pre-law student from Austin, Texas
Katelayn Vault, junior public administration student from Dallas, Texas
Each member of the team from TSU earned a $5,000 scholarship. In addition, members of the top three teams received guaranteed offers of a paid internship at Ally for Summer 2024, and other prizes to support their education.