Houston First to Open Lynn Wyatt Square for the Performing Arts
Reimagined Downtown Green Space to Transform Houston's Theater District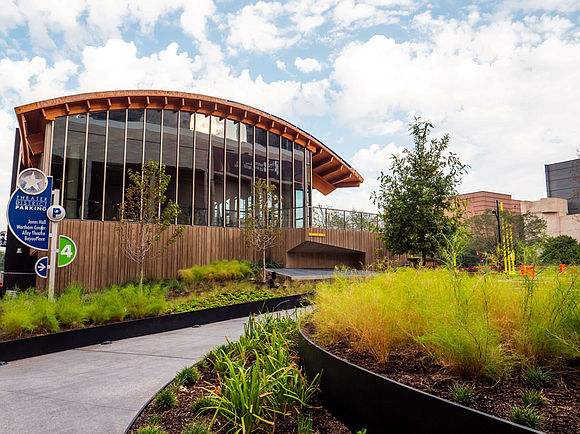 Houston First Corporation (HFC) is celebrating the long-awaited Lynn Wyatt Square for the Performing Arts (LWS) at a grand opening event, Thursday, September 21, 2023, at 10:30 a.m. Participants at the celebration will include Houston Mayor Sylvester Turner, philanthropist Lynn Wyatt, HFC Chairman David Mincberg, and HFC President and CEO Michael Heckman, along with other public officials and leaders from Houston's performing arts and business community as well as project architects and designers.

"This is a game changer for downtown Houston. I am so excited to see this square come to life as a public space that connects the arts and, more importantly, connects people to the arts. I thank Houston's living legend, Lynn Wyatt and her family for their dedication to this city and the arts. We can move mountains in this city by working together through public-private collaborations like this one between Lynn Wyatt, the Downtown Redevelopment Authority, and Houston First," said Mayor Sylvester Turner.
The new $26.5 million green space includes a flexible performance lawn for concerts and other free programs, a cascading water feature, accessible entries, gardens, trees, one-of-a-kind tête-à-tête rockers/seating, lighting and sound elements and space for a future restaurant. Mini murals created by Anat Ronen and Jessica Guerra (Guerra Girl) cover traffic boxes around the Square. HFC will maintain and operate the Square, which will offer year-round programming inspired by Houston's cultural diversity and the award-winning performing arts organizations surrounding the park.
"I love Houston, I love the arts and I absolutely love this beautiful Square. I am thrilled to support the team bringing people and the arts together in the heart of downtown. And to have my name on such an important piece of Houston, I am humbled and grateful, this truly touches my heart. I look forward to all the good this Square will do now and in the future for the people of this dynamic city and our world-class performing arts community," said Lynn Wyatt.

"This is an important step forward for the city and I am grateful to both Lynn Wyatt for her generosity and to the Downtown Redevelopment Authority for their support of this vision to improve what is the new front lawn of our Theater District. This is another great example of Houston coming together to make legacy projects that benefit the entire city a reality," said Michael Heckman, president & CEO Houston First Corporation.

Project Team
• RIOS (Architects)
• Manhattan Construction Company (General Contractor)
Subconsultant Design Team
• Harrison Kornberg Architects
• Asakura Robinson (Landscape Architects)
• Henderson Rogers (Structural Engineers)
• TEI Planning+Design (Traffic Engineers)
• E&C (MEP Engineers)
• Fluidity Design (Water Feature Design)
• Gradient Group (Civil Engineers)
• Walter P Moore (Waterproofing)
• Schuler Shook (Lighting and Theater Design)
• Jaffe Holden (Audio Visual Consulting)
LWS Programming Notes:
• Programming for the grand opening event is from 10:30 a.m. – 11:00 a.m.
• Immediately following the LWS program, media is invited to join Mayor Turner for an exclusive peek of exciting renovations happening at Jones Hall just across the street.
• Lynn Wyatt Square will be fully open to the public beginning Friday, September 22, 2023. During opening weekend, programming will include a number of fun activities, lawn games and live entertainment. A highlight of the weekend is an interactive experience called "Bees" created by Polyglot Theatre, a world-renowned contemporary theatre based in Australia. Free and open to the public, the show offers a creative and fun way to explore the mysterious world of bees that is sure to provide a buzzing good time for the young and young at heart. The Bees performances will take place Friday at 5 p.m. & 7 p.m.; on Saturday and Sunday at 1 p.m., 5 p.m. & 7 p.m.
Visit LynnWyattSquare.com and follow @LynnWyattSquare for the latest information.