Kamala Hosts a 5oth Anniversary of Hip Hop Party at her House!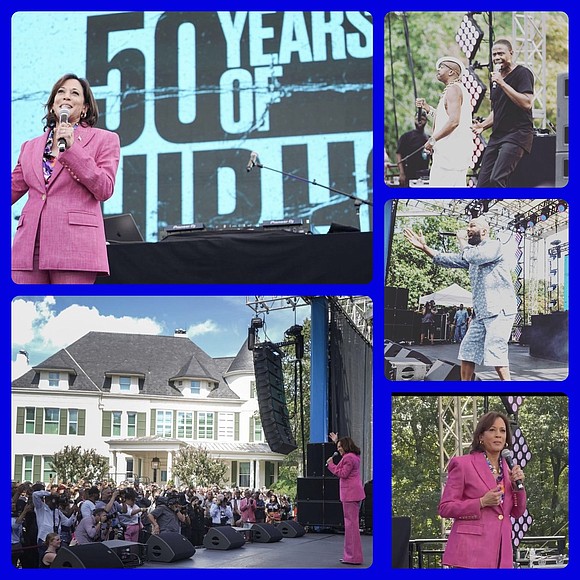 Vice President Kamala Harris hosted an event at her home in Washington, DC, celebrating the 50th anniversary of hip-hop. Common, MC Lyte, Roxanna Shante, Lil' Wayne, Fat Joe, and Jeezy were among the 400 guests in attendance.
High-profile politicians at the event included Sen. Raphael Warnock of Georgia, Gov. Wes Moore of Maryland, and Rep. Cori Bush of Missouri.
Q-Tip's "Vivrant Thing" took guests back to the 1990s as Harris danced to the classic song. The lyrics flowed: "Imprinted on my mind every minute / Make my plans and you always in it / It's such a vivrant thing / Vivrant thing, a vivrant thing / And even though we both fly / Give each other space and not the evil eye."
In honoring the unique and ever-evolving genre, Harris paid homage to its outsized influence on American culture. "Hip-hop is the ultimate American art form," Harris said in her remarks. "It tells the stories that don't make the news. But as the great Chuck D once said, rap is Black America's CNN. And by telling the truth, hip-hop calls us to action." "Hip-hop culture is American culture," she told the crowd. Harris said hip-hop is "the ultimate American art form" that "shapes every aspect of America's popular culture."
"Every day, Vice President Harris is fighting for the people," Harvey Mason, Jr., chief executive of The Recording Academy, said at the event. "She's fighting for our people. Our vice president was rooted in hip-hop, and it's essential to who she is."
Harris partnered with the Recording Academy's Black Music Collective and Live Nation Urban for the event.