SAVOY Golf Invitational: A Milestone Event in Networking and Celebrating Achievements
The inaugural SAVOY Golf Invitational, spearheaded by L.P. Green, II, CEO of SAVOY, successfully concluded on August 29, 2023, at the Golf Club of Georgia in Atlanta. The event, marked by its collaborative spirit and focus on networking, brought together a diverse group of leaders and achievers from various industries.
The day saw a significant turnout from the corporate sector, with representation from executives such as Kim Adams House of Stellantis and Jacob Pruit of Fidelity Charitable, among others. The event also saw participation from renowned athletes including Brian Jordan and Steve Smith, who joined in to support the cause and connect with fellow attendees.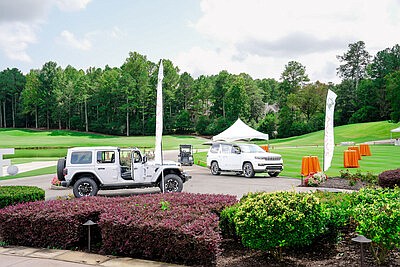 A highlight of the event was the Game Changers Awards, which recognized individuals who have made remarkable contributions to their respective fields. The awardees were:
Ralph Stokes, First Black President, Georgia Golf Association
Patrina King, Founder, Golf Women Mean Business
Robert Baker, Partner, DHR International
The event was supported by prominent sponsors including Jeep Grand Wagoneer, Google, and Ernst & Young, showcasing a united front in celebrating achievements and fostering connections.
L.P. Green, II, Publisher of Savoy Magazine, reflected on the event's success, stating, "Just as golf is a game of fostering connections and building relationships on the greens, Savoy Magazine has always been about creating a platform where achievements are celebrated and connected. Today, we witnessed a seamless blend of networking and camaraderie, underscoring our commitment to spotlighting success and fostering a community of inclusivity and recognition."