Smithsonian American Art Museum Releases 10 New Digital Comics Exploring the Lives of Women Artists Represented in Its Collection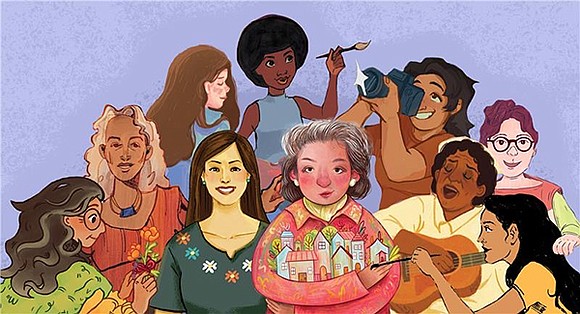 The Smithsonian American Art Museum has published 10 new digital comics, each celebrating a woman artist represented in the museum's permanent collection. The trailblazing artists featured in the 2023 set of the series "Drawn to Art: Tales of Inspiring Women Artists" are Laura Aguilar, Tanya Aguiñiga, Emma Amos, Chitra Ganesh, Barbara Jones-Hogu, Sister Gertrude Morgan, Miriam Schapiro, Lilly Martin Spencer, Wendy Red Star (Apsáalooke/Crow) and Consuelo Jimenez Underwood. This latest group of comics marks the third installment of the museum's online series since launching in 2021.
"Seeing the stories of women artists made central in this creative project from the nation's preeminent museum of American art gives girls and women a chance to see themselves represented and to draw inspiration from these shared experiences," said Stephanie Stebich, the Margaret and Terry Stent Director of the Smithsonian American Art Museum. "The 'Drawn to Art' project captures wonderfully SAAM's role, whether in person or online, as a place that creates connection, wonder and understanding."
Inspired by graphic novels and web comics, these short takes on artists' lives were drawn by 10 student-illustrators from Ringling College of Art and Design as part of the college's INDEX (Industry Experience) program. The participating illustrators are Sky Chandler, Ati Gor, Stephanie Hunton, Elena May binti Saini Jeffery, Zahra Merchant, Irene Pae, Ana Parra, Sami Sulzer, Tyler Tjaden and Catherine Vo. The project provides valuable professional experience for Ringling students who learn to work collaboratively, meet deadlines and address formatting and accessibility requirements.
Through this digital storytelling project, the museum is connecting with middle-grade readers and their adult teachers and caregivers who may share the comics with younger people in their lives or use them as teaching resources. The life stories of the selected artists provide readers with a chance to identify with the struggles and the triumphs of the women artists depicted in the comics, to see elements of their own stories reflected and to draw strength from that visibility.
Since its debut, the digital series has featured the stories of American women artists from throughout the 20th and 21st centuries, including Berenice Abbott, Anni Albers, Romaine Brooks, Maria Oakey Dewing, Carmen Herrera, Corita Kent, Edmonia Lewis, Kay Sekimachi, Alma Thomas and Mickalene Thomas. The museum published a second set of comics in 2022, featuring Judy Baca, Tiffany Chung, Sonya Clark, Sarah Goodridge, Ester Hernandez, Loïs Mailou Jones, Jaune Quick-to-See Smith (Confederated Salish and Kootenai Nation), Nellie Mae Rowe, Augusta Savage and Kay WalkingStick (Cherokee Nation). All 30 comics are available on the museum's website.
Several of the artists celebrated in the series—Baca, Chung, Herrera, Jones-Hogu, Morgan, Schapiro, Alma Thomas, Mickalene Thomas, Underwood and WalkingStick—are represented in the museum's new modern and contemporary art galleries, which reopen to the public Sept. 22. This resource extends the museum's commitment to creating and making widely accessible digital content that enhances and complements the permanent collection reinstallation project.
"Drawn to Art" received support from the Smithsonian American Women's History Initiative Pool, administered by the Smithsonian American Women's History Museum.
INDEX is an experiential education initiative that provides students with professional experience prior to graduation by connecting them with leading brands and clients to develop creative solutions to business challenges. Ringling College and The Patterson Foundation partnered in 2012 with the shared goal of strengthening the creative workforce of tomorrow.