A Texas teen was suspended for weeks over his locs hairstyle. Now, his family is suing the governor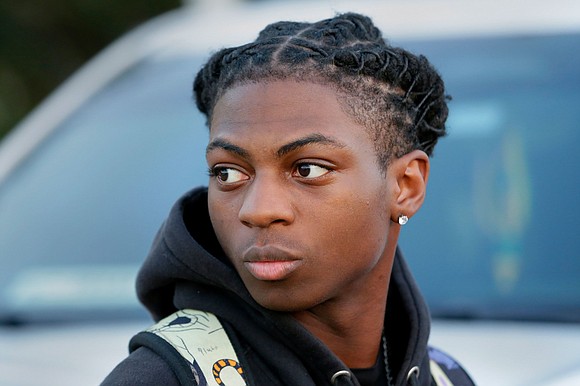 Originally Published: 23 SEP 23 10:47 ET
Updated: 23 SEP 23 15:15 ET
By Chandelis Duster, CNN
(CNN) — A Black high school student who was suspended over his locs hairstyle and his mother have sued Texas Gov. Greg Abbott and the state's attorney general for allegedly failing to enforce the state's CROWN Act, a law that protects against hair discrimination.
Darryl George, a 17-year-old student at Barbers Hill High School in Mont Belvieu, Texas, has been suspended for more than three weeks because officials said his locs – which he often wears in braids or a ponytail – violate the Barbers Hill Independent School District's dress code for male students.
The policy does not prohibit students from wearing locs or braids, but it does place limitations on hair length for male students, stating hair cannot be worn in a style "that would allow the hair to extend below the top of a t-shirt collar, below the eyebrows, or below the ear lobes when let down."
But the federal civil rights lawsuit, filed Saturday in the Texas Southern District Court, argues that Darryl's suspension is a violation of the state's CROWN Act, a law that prohibits discrimination against hair texture and protective hairstyles like locs and braids that are "commonly or historically associated with race."
It also alleges that Abbott and Texas Attorney General Ken Paxton have failed to enforce the law, which went into effect on September 1.
The lawsuit notes the plaintiffs are seeking an injunction against Abbott and Paxton to compel them to stop the district from "exposing their students to disciplinary punishment and disciplinary measures due to locs, braid, twists and other protective styles that are alleged to be or that are longer than the District or schools' length requirement."
CNN has reached out to Abbott's and Paxton's office for comment on the lawsuit, as well as the attorneys for the Barbers Hill Independent School District.
The filing comes days after the district asked a Texas court to clarify if its dress code violates the CROWN Act.
"Although we believe the new law does not govern hair length, we are asking the judicial system of Texas to interpret," Barbers Hill Superintendent Greg Poole said in a statement on Wednesday.
George's family has previously said they were told Darryl will be sent to a Disciplinary Alternative Education Program, also known as an alternative school, if he refuses to cut his hair. The family told CNN his locs are intertwined with strands from his grandfather and father and that they do not intend to cut them off.
This is not the first time the Barbers Hill Independent School District has faced legal action over the impact its hair policy has on Black students with locs.
In 2020, Sandy Arnold, her son DeAndre and Cindy Bradford sued the school district, claiming the district's grooming policies amounted to racial discrimination and violated their children's First and Fourteenth Amendment rights, CNN previously reported. Both students wore locs and had been asked to cut them to comply with the district's policy on hair length.
DeAndre Arnold was also told if he didn't cut his locs, he would not be able to participate in his graduation ceremony. Instead of cutting his hair, Arnold transferred to another school district.
Later that year, a federal court issued a preliminary injunction blocking the district from enforcing its hair-length policy against Bradford's son. That case is ongoing, according to the NAACP Legal Defense Fund, which represents the plaintiffs.
In May, Abbott signed the state's CROWN Act. Arnold told CNN affiliate KTRK at the time that the law's passage was the "most validating feeling."
"After all this time to get what we've been fighting for, this made everything worth it because I know now they can never do anything like this to anybody else in the state of Texas," he said.
Two dozen states have enacted versions of a CROWN Act, according to the Economic Policy Institute. California was the first to pass the measure in 2019. Legislation for a national CROWN Act has been unsuccessful.