Donato Cabrera Guest Conducts the Houston Symphony in Fiesta Sinfónica on October 13, 2023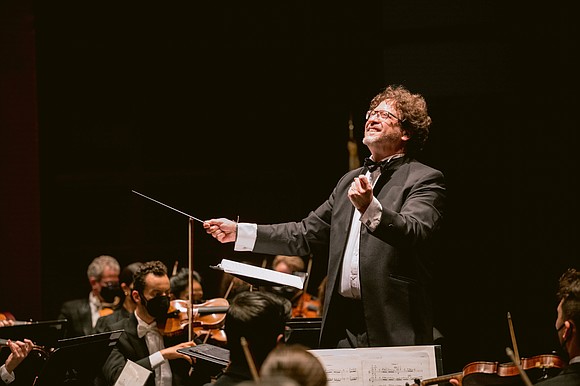 Friday, October 13, 2023
Jones Hall for the Performing Arts | 615 Louisiana Street | Houston, TX
Free, Reservations Required: www.houstonsymphony.org/tickets/concerts/fiesta-sinfonica
Mexican-American conductor Donato Cabrera will guest conduct the Houston Symphony on Friday October 13, 2023 at 7:30pm at Jones Hall for the Performing Arts (615 Louisiana Street). Cabrera joins the Houston Symphony for its annual Fiesta Sinfónica, a free performance that dates back to 1992, celebrating the musical contributions of Latin American and Hispanic composers. The program for this special performance includes Márquez's Conga del Fuego Nuevo, Rosas' Sobre las Olas (Over the Waves), Gershwin's Rhapsody in Blue, Contreras' MeChicano (Texas premiere), the third movement from Orbón's Tres versiones, and Bernstein's "Symphonic Dances" from West Side Story. Venezuelan pianist Gabriela Martinez is the soloist for Rhapsody in Blue, which will celebrate its centennial anniversary in 2024.
Cabrera says of this vibrant program and having Gabriela Martinez take part in the performance:
"With iconic works by Arturo Marquez and Juventino Rosas, as well as the Texas premiere of Juan Pablo Contreras's MeChicano, this concert celebrates the music of Latin America composers. But we'll also be performing Symphonic Dances from West Side Story, which sheds light on the enormous influence Latin American music has had on native born composers like Leonard Bernstein. Latin American soloists have always had an important presence on concert stages throughout the world and what better vehicle to showcase the talents of Venezuelan pianist, Gabriela Martinez, than George Gershwin's timeless classic, Rhapsody in Blue?"
Fiesta Sinfónica features the Texas premiere of Juan Pablo Contreras' inspiring MeChicano, which Cabrera performed with the California Symphony and gave the world premiere of with the Las Vegas Philharmonic, two co-commissioners of the piece through New Music USA's Amplifying Voices Program. Contreras became the youngest Mexican classical composer nominated for a Latin Grammy Award in 2019. MeChicano, the first work he wrote after becoming a U.S. citizen, celebrates the Mexican-American communities that have flourished across the nation. The Arizona Daily Star hailed MeChicano as, "A sonic cross-culture kaleidoscope that borrowed equally from Mexican music styles – toe-tapping cumbias, flashes of mariachi, and Tejana polka – and quintessential American – jazz and rock."​​
Donato Cabrera is the Artistic and Music Director of the California Symphony and the Music Director of the Las Vegas Philharmonic. He served as the Resident Conductor of the San Francisco Symphony and the Wattis Foundation Music Director of the San Francisco Symphony Youth Orchestra from 2009-2016. Cabrera is one of only a handful of conductors in history who has conducted performances with the San Francisco Symphony, San Francisco Opera, and the San Francisco Ballet. He is dedicated to adventurous programming, a leading advocate for living composers and digital innovation, and is keenly focused on outreach, engagement, and programming that reflects the communities he is serving. Cabrera co-founded the New York-based American Contemporary Music Ensemble (ACME), which is dedicated to the outstanding performance of masterworks from the 20th and 21st centuries.
Cabrera has made debuts with the Chicago, London, National, and New Haven Symphony Orchestra, Houston Symphony, Louisville Orchestra, Orquesta Filarmónica de Jalisco, Philharmonic Orchestra of the Staatstheater Cottbus, Orquesta Filarmónica de Boca del Río, Orquesta Sinfónica Concepción, Hartford Symphony, Greensboro Symphony, Nevada Ballet Theatre, New West Symphony, Kalamazoo Symphony, Monterey Symphony, and the Reno Philharmonic. In his Carnegie Hall debut, Cabrera led the world premiere of Mark Grey's Ătash Sorushan with soprano Jessica Rivera.  
Deeply committed to diversity and education through the arts, Cabrera evaluates the scope, breadth, and content of the California Symphony's music education programs, including its nationally recognized Sound Minds program and adult-education oriented Fresh Look: The Symphony Exposed weekly summer lecture series. As Resident Conductor of the San Francisco Symphony, Cabrera worked closely with its then Music Director Michael Tilson Thomas, and frequently conducted the orchestra in a variety of concerts, including all of the education and family concerts, reaching over 70,000 children throughout the Bay Area every year. 
Cabrera is equally at home in the world of opera, frequently conducting productions in the United States and abroad. He was the Resident Conductor of the San Francisco Opera from 2005-2008 and has also been an assistant conductor for productions at the Metropolitan Opera, Lyric Opera of Chicago, the Ravinia Festival, Festival di Spoleto, the Aspen Music Festival, and the Music Academy of the West. Since 2008, he has frequently conducted productions in Concepción, Chile. In 2021 he made his debut with Opera San José and in spring 2023, Cabrera appeared with the San Francisco Conservatory of Music conducting Gian Carlo Menotti's The Consul.
Awards and fellowships include a Herbert von Karajan Conducting Fellowship at the Salzburg Festival and conducting the Nashville Symphony in the League of American Orchestra's prestigious Bruno Walter National Conductor Preview. Cabrera was recognized by the Consulate-General of Mexico in San Francisco for his contributions to promoting and developing the presence of the Mexican community in the Bay Area. 
About Gabriela Martinez: Venezuelan pianist Gabriela Martinez has a reputation for the lyricism of her playing, her compelling interpretations, and her elegant stage presence. Her playing has been described as, "magical… a remarkable pianist, with a cool determination, a tone full of glowing color and a seemingly effortless technique" (Los Angeles Times) and, "compelling …versatile, daring and insightful" (New York Times). Martinez made her orchestral debut at age six, and has performed with over 100 orchestras since including the San Francisco, Chicago, Houston, San Diego, Grand Rapids, New Jersey, Tucson, Pacific and Fort Worth symphonies, Buffalo Philharmonic; Germany's Stuttgarter Philharmoniker, MDR Leipzig Radio Symphony Orchestra, Nurnberger Philharmoniker; Canada's Victoria Symphony Orchestra; the Costa Rica National Symphony, and the Simon Bolivar Symphony Orchestra in Venezuela. She has performed with Gustavo Dudamel, James Gaffigan, James Conlon, JoAnn Falleta, Michael Francis, Marcelo Lehninger and Guillermo Figueroa, among many others.
Martinez is passionate about new music, and has commissioned and premiered works by many composers including Mason Bates, Sarah Kirkland Snider, Paola Prestini, Jessica Meyer, and Dan Visconti. Her debut album, Amplified Soul, was released on the Delos label, and was recognized with a GRAMMY Award for Producer of the Year David Frost.
About the Houston Symphony Orchestra: Under Music Director Juraj Vacua, the Houston Symphony continues its second century as one of America's leading orchestras with a full complement of concert, community, education, touring, and recording activities. One of the oldest performing arts organizations in Texas, the Symphony held its inaugural performance at The Majestic Theater in downtown Houston on June 21, 1913. Today, with an operating budget of $37.8 million, the full-time ensemble of professional musicians presents more than 130 concerts annually, making it the largest performing arts organization in Houston. Traditionally, musicians of the orchestra and the Symphony's two Community-Embedded Musicians also offer over 1,000 community-based performances each year at various schools, community centers, hospitals, and churches reaching more than 200,000 people in Greater Houston annually.
After suspending concert activities in March 2020, the Symphony successfully completed a full 2020-21 season with in-person audiences and weekly livestreams of each performance, making it one of the only orchestras in the world to do so, while the Symphony's Education and Community Engagement team continued to fulfill its mission through creative and virtual means throughout the COVID pandemic. The Houston Symphony remains committed to livestreaming all of its 2023-24 season to a broad audience in over forty-five countries and all fifty states, one of few American orchestras dedicated to transmitting live performances to a size-able audience outside its home city through this technology.
The Grammy Award-winning Houston Symphony has recorded under various prestigious labels, including Koch International Classics, Naxos, RCA Red Seal, Telare, Virgin Classics, and, most recently, Dutch recording label Pentatone. In 2017, the Houston Symphony was awarded an ECHO Klassik award for the live recording of Alban Berg's Wozzeck under the direction of former Music Director Hans Graf. The orchestra earned its first Grammy nomination and Grammy Award at the 60 annual ceremony for the same recording in the Best Opera Recording category. The Symphony's most recent recordings include a Pentatone release in January 2022 of its world premiere performances of Jimmy Lopez Bellido's Aurora and Ad Astra, and a Naxos release in July 2023 of its world premiere performance of Jennifer Higdon's Duo Duel.