Who killed Tupac Shakur? What we know about the rapper's murder investigation, almost 30 years later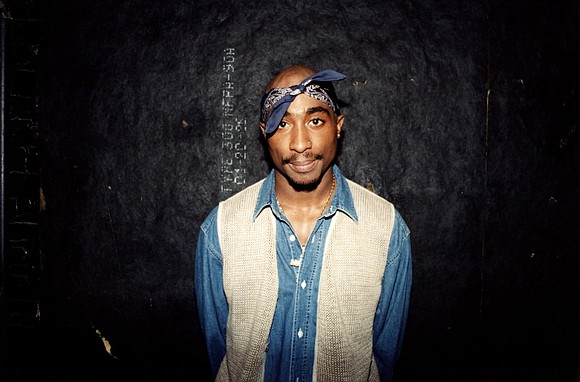 Originally Published: 21 JUL 23 00:47 ET
Updated: 29 SEP 23 13:52 ET
By Alisha Ebrahimji, CNN
(CNN) — For almost three decades, the answer to "Who murdered Tupac Shakur?" has remained a mystery.
Now, an arrest has been made in Las Vegas in connection with the legendary musician's 1996 killing, a law enforcement source told CNN Friday.
Duane Keith Davis, aka "Keffe D," was arrested Friday morning, confirmed the source with knowledge of the investigation, adding Davis' Henderson, Nevada, home was searched in July as part of the ongoing investigation into the shooting.
Las Vegas Metro Police Department officials plan to hold a news conference later Friday, the source said.
For years, no suspect had been caught after Shakur was shot leaving a boxing match on the Las Vegas Strip in September 1996. With the murder unsolved, conspiracy theories have surfaced and left the world with more questions than answers.
Here's what we know about the musician's life, his artistry, and his murder:
A targeted shooting and famous last words
Shakur was shot multiple times in Las Vegas on September 7, 1996, while leaving a boxing match at the MGM Grand hotel on the Las Vegas Strip.
At the time of his fatal shooting, he was in a car with former Death Row Records CEO Suge Knight when a white Cadillac with "two or three males inside" pulled up beside them and fired shots into the passenger side of their car, investigators said at the time. Details are vague, however, because those riding in Shakur's 10-car entourage have not been forthcoming as witnesses.
Knight was slightly wounded, and Shakur died from his injuries six days later at age 25.
Shakur was the intended target of the shooting that ultimately led to his death, authorities said at the time.
"Thirteen or 14 rounds were fired; almost all went into the passenger side of the vehicle," a Las Vegas police spokesman said at the time. "We feel pretty sure that Shakur was the target."
In 2014, Chris Carroll, a retired sergeant with the Las Vegas Metropolitan Police Department and the first police officer to arrive at the scene of Shakur's drive-by murder, spoke publicly about the rapper's last few words.
After retirement, Carroll said he felt he had more freedom to speak about the homicide case without being reprimanded, he told Vegas Seven magazine at the time.
Carroll attempted to get a "dying declaration" of a potential suspect from Shakur, but the musician didn't budge, he said.
"And then I saw in his face, in his movements, all of a sudden in the snap of a finger, he changed," Carroll said. "And he went from struggling to speak, being noncooperative, to an 'I'm at peace' type of thing. Just like that … He went from fighting to 'I can't do it.' And when he made that transition, he looked at me, and he's looking right in my eyes. And that's when I looked at him and said one more time, 'Who shot you?' … He looked at me and he took a breath to get the words out, and he opened his mouth, and I thought I was actually going to get some cooperation. And then the words came out: 'Fk you.' After that, he started gurgling and slipping out of consciousness."
House searched decades later
Property records show the target of the July search was a home on Maple Shade Street in Henderson, Nevada, that belongs to Paula Clemons, who is married to Davis.
Davis is a self-proclaimed witness to the shooting that killed Shakur and is believed to be the uncle of Orlando Anderson, who has long been suspected of being involved in the murder, a charge he denied to CNN before his death in a gang-related shooting in 1998.
The affidavit requesting the warrant, obtained by CNN, shows police were looking for, among other items, "notes, writings, ledgers, and other handwritten or typed documents concerning television shows, documentaries, YouTube episodes, book manuscripts, and movies concerning the murder of Tupac Shakur."
Items seized from the Las Vegas home included several tablets, an iPhone, five computers and a copy of the memoir Davis authored detailing street gang life and the murder of Shakur.
A 'street poet' with a short but impactful career
Shakur was born on June 16, 1971, in Harlem, New York. He and his sister were raised by a single mother, former Black Panther member Afeni Shakur, until the trio moved to Baltimore where Shakur enrolled at the Baltimore School for the Arts. The family soon moved again to Marin City, California. Despite moving around quite a bit in his youth, Shakur considered nearby Oakland his home.
"I give all my love to Oakland, if I'ma claim somewhere I'ma claim Oakland, even if I don't live there," Shakur said in a 1993 interview.
The rapper released 11 platinum albums: four during his career and seven others released posthumously. His first album, "2Pacalypse Now" debuted on November 1991.
Before his music career, Shakur wrote poetry and outside of music, the artist had roles in films like "Poetic Justice" and "Above the Rim."
While serving a prison sentence in 1995, Knight, co-founder and then CEO of Death Row Records, visited Shakur and offered to pay his bail on the condition he would sign on to his label. Shakur agreed and signed on the dotted line.
You can't talk about Shakur's life without talking about Christopher Wallace, famously known as "The Notorious B.I.G" or "Biggie Smalls," whose 1997 murder has also remained unsolved.
The two superstars – who were once friends – were symbols of the East Coast-West Coast hip-hop rivalry, which pitted Shakur's recording label, Death Row Records, against Wallace's.
Tupac's fifth album, "Don Killuminati: The Seven Day Theory," was released November 1996, eight weeks after his death.
Although Shakur's career only lasted five years, his life and music have heavily influenced pop culture, inspiring other musical greats like Janet Jackson, Ed Sheeran, Eminem, M.I.A and Drake. In 2012, Coachella, the California-based annual music festival, closed with a performance by Shakur, who was brought back to virtual life via hologram.
Since his murder, his life and death have been examined in books, films and documentaries, with one of the most recent projects being "Dear Mama" streaming on Hulu. The five-part series focuses on both his life and his mother's.
Last month, Shakur was honored posthumously with the 2,758th star on the Hollywood Walk of Fame.
Fans search for answers
Chances are you've heard someone say the famed rapper is still alive, as there are plenty of conspiracy theorists who do not believe Shakur is dead – and since no one has been prosecuted for his murder, it has led fans to concoct their own theories over the years.
Since his shooting, there have been countless theories suggesting the artist faked his own death after he was hospitalized. Videos have surfaced on social media claiming to prove Shakur is still alive, and Reddit threads have theorized on where he could be hiding out.
Despite the video – and many of these theories – being debunked, fans have continued to share their hot takes. Some have even claimed photos of actor Demetrius Shipp, Jr., who portrays the slain rapper in the 2017 film about Shakur, "All Eyez on Me," are actually of the rapper himself.
An emerging theory
In his memoir, Davis describes himself as one of only two living witnesses to Shakur's shooting, the other being Knight, who was driving the car in which Shakur was a passenger when the rapper was shot.
In a 1998 interview with BET, Davis said he was in the front seat of the other car – the one that came up alongside Shakur's automobile – when shots rang out from the backseat.
"Going to keep it for the code of the streets," Davis said when asked between the four men in the car, who was responsible for pulling the trigger. "It just came from the backseat, bro."
Three hours before the shooting, MGM casino surveillance video shows Shakur, Suge Knight and their entourage attacking Anderson, an L.A.-area gang member. Many believe Anderson and his friends shot Shakur in retaliation.
Carroll, the now-retired police lieutenant, believes Anderson is the person who shot Shakur, he told CNN affiliate KSNV this summer.
"I think it's pretty significant," Carroll said of the search warrant. "You know, I don't think anybody saw this coming. It, it's been 27 years. I think anybody had given up hope on any type of prosecution and this, you know, kind of changes the game and open things up."
Carroll's optimism is tempered. "I would be surprised if they even found anything in that home that is usable as evidence, but you know, maybe, maybe they did," he said. "It's 27 years later, it's going to be tough to find evidence."
According to the warrant, police were looking for "items that tend to show evidence of motive and/or the identity of the perpetrator such as photographs or undeveloped film, insurance policies and letters, address and telephone records, diaries, and other documents …"