Houston Rides In Style - METRO's Cutting-Edge Bus Shelters Redefine Public Transit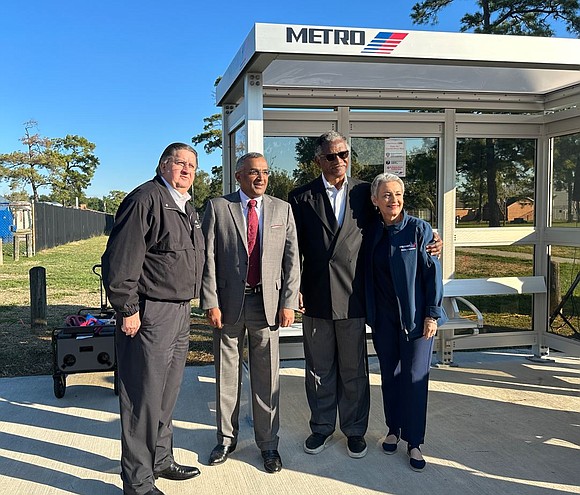 Houston is on the move, and METRO is keeping pace with a rollout of state- of-the-art bus shelters that promise to revolutionize public transit. In a landmark move celebrated by METRO leaders, officials, and community enthusiasts, the city welcomed the first in a new wave of bus shelters, boasting modern amenities and eco-friendly designs.
AsHouston Style Magazine brings this news to its readers, we're spotlighting METRO's commitment to transit excellence. These aren't just any bus shelters; they're a testament to innovation and inclusive city planning. The sleek, silver-colored shelters come equipped with durable steel framing and are powered by the Texas sun through solar lighting, illuminating the way for a safer commute.
METRO is not just updating the city's landscape; it's transforming the daily commute for thousands. Board Chair Sanjay Ramabhadran puts it simply: "Our mission is clear – to ensure a safe, reliable, and accessible journey for every METRO rider." And with plans to install 30 shelters monthly, amounting to 400 a year, and an impressive 2,000 over the next five years, METRO is making a resounding statement of progress.
These installations are meticulously strategized, with a clear priority: enhance stops that currently lack shelters, and then rejuvenate existing ones. Each site is selected based on critical need factors, including the volume of daily passengers, the proximity to elderly populations and communities with disabilities, and access to bustling hubs like hospitals, malls, and grocery stores.
Moreover, these new shelters align seamlessly with METRO's Universal Accessibility Program, an initiative designed to create a fair and accessible transportation network for all of Houston's residents. With every new shelter, METRO weaves a stronger thread in the fabric of the city's transit infrastructure, ensuring that those with mobility challenges can navigate Houston with dignity and ease.
Readers looking to learn more about METRO's transformative journey can hop over to their website at www.RideMetro.org. It's not just about getting from point A to B; it's about moving forward, and METRO's new bus shelters are leading the charge, making Houston's public transit system not only more efficient but also a proud embodiment of the city's spirit.
Stay informed with Houston Style Magazine, where we don't just report on the city's evolution, we celebrate it. Keep an eye on the horizon because, with METRO's latest endeavor, Houston is going places, and it's doing so with unparalleled style and substance.
Visit www.RideMetro.org.