The Savoy Joins Forces with Quad HTX and Third Ward Businesses for a 500 FREE Hot Thanksgiving Dinner Giveaway
Lisa Valadez | 11/17/2023, 10:36 a.m.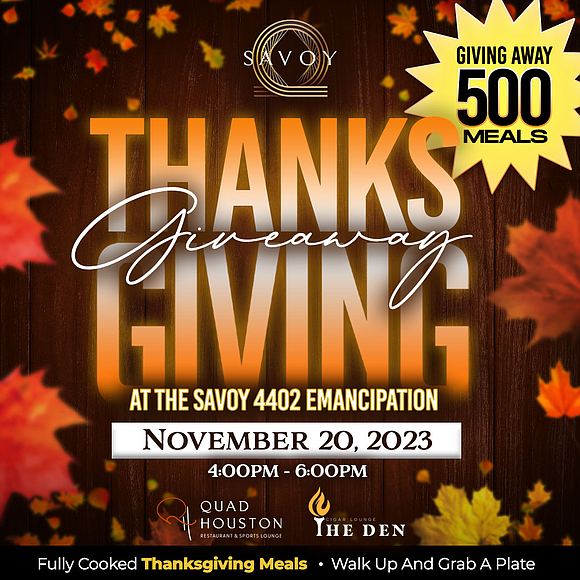 The Savoy, a beloved neighborhood bar in Houston's Third Ward, is joining forces with Quad HTX Restaurant & Sports Lounge and other local businesses to give back to the community by offering 500 FREE hot Thanksgiving Meals on Monday, November 20, 2023! This heartfelt event will unfold from 4pm-6pm at The Savoy, located at 4402 Emancipation Avenue, welcoming anyone in need. Claire Watson, Co-owner of The Savoy, expresses gratitude for the community and emphasizes the spirit of Thanksgiving, while Michael Brockers, NFL free agent and owner of Quad HTX, is thrilled to support and build a stronger sense of community in the Third Ward. No preregistration is required; guests are invited to walk up, grab a plate, and enjoy a complimentary Thanksgiving feast from 4pm to 6pm. Join us for this heartwarming event at The Savoy!"