HOUSTON TEXANS: C.J. Stroud Shines As TEXANS Triumph Over The Pittsburgh STEELERS In A Resounding 30-6 Victory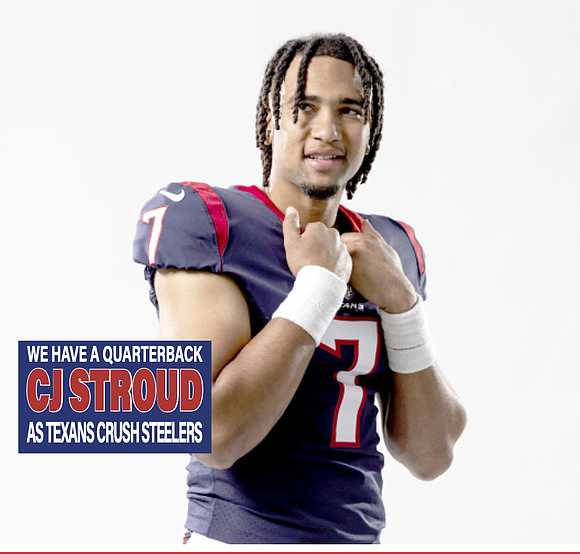 In a scintillating display of skill and prowess, rookie quarterback C.J. Stroud showcased why he's considered one of the most promising talents in the NFL. Leading the Houston Texans to a resounding 30-6 win over the Pittsburgh Steelers, Stroud threw for an impressive 306 yards, completing two touchdown passes.
Texans fans at NRG Stadium were treated to a spectacle as the young quarterback connected seamlessly with Nico Collins, notching up touchdowns in both the first and fourth quarters. What was even more remarkable was Stroud's ability to maintain composure and play flawlessly, even with the formidable Pittsburgh pass rush, led by T.J. Watt, breathing down his neck. Despite being behind an offensive line that had its challenges, Stroud stood tall, taking zero sacks and playing error-free football.
This win marks the Texans' second consecutive victory, bringing their season record to 2-2. It's also a celebratory return to form for the team, marking their first home late December 2021. With a winning margin of 24 points, it's Houston's most significant victory since their dominant performance against Tennessee back in October 2017.
Stroud's draft selection as the second overall pick is already showing dividends. The quarterback has been instrumental in building leads, as seen when the Texans went 16-0 in the first half. With six touchdown passes and no interceptions in his first four games, Stroud's confidence and momentum are palpable as the team looks ahead.
However, the game wasn't without its challenges. The Steelers, under the leadership of Kenny Pickett, posed a formidable threat. Pickett managed 114 yards but had to leave the game due to a knee injury in the third quarter. The pressure is now mounting on the Steelers' offensive coordinator, Matt Canada, as the team grapples with consecutive losses.
The Texans' defense was equally commendable, with Jonathan Greenard sacking Pickett, leading to a crucial turn- over. The game also saw some notable plays, including a 32-yard catch by Najee Harris and Steven Nelson's interception that set the stage for a Texans' field goal.
As the Texans bask in the glory of this victory, their early lead in the game, marked by Stroud's 2-yard touchdown pass to Collins, and subsequent scores by Kaʻimi Fairbairn, are a testament to their coordinated team effort.
Houston Style Magazine salutes the Texans for their outstanding performance and wishes them continued success in the season ahead. Here's to more thrilling games and monumental victories!
For more information, visit HoustonTexans.com.